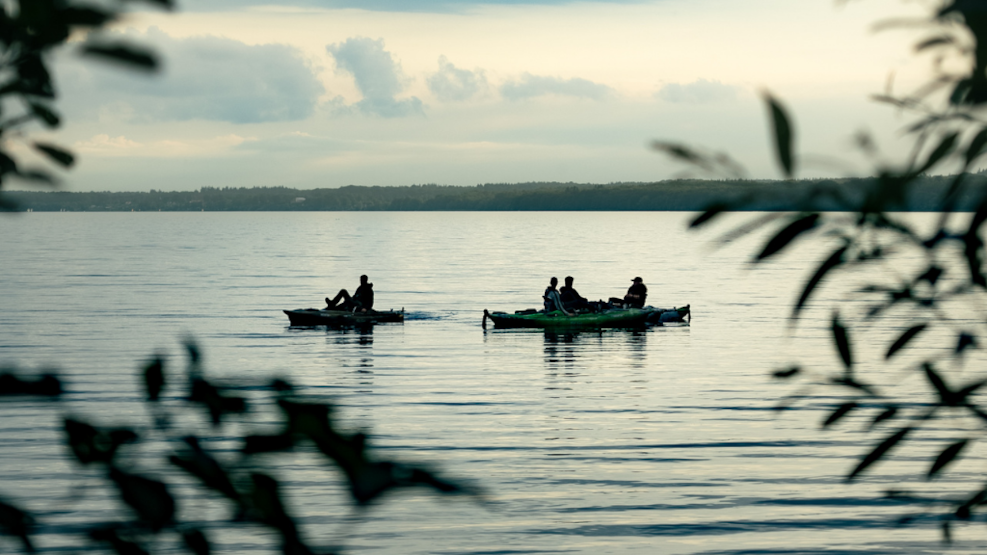 Pedal Kayak Rentals & Kayak Packages | Comfort Adventures
If you want fresh air and exciting nature experiences, then you now have the opportunity to experience Arresø or Roskilde Fjord from the waterside in a pedal kayak.
Five minutes of instruction, and you are ready to depart. It does not require more to go on an adventure in a pedal kayak, either out on Arresø or sightseeing on the canal through Frederiksværk town and into Roskilde Fjord.
Kayak packages
Join a guided tour on the water. You will be taken on a trip on the water, or you can sail yourself. You can choose between the White Cliff Tour (Hvide Klint) or the Comfort Adventure package.
Hvide Klint The tour is a guided tour that starts at Hvide Klint in Frederiksværk.
The trip takes place on Roskilde Fjord, and you will pass the Danish Steel Works (Stålvalseværket), Frederiksværk harbour, and Hanehoved where there will be a bathing stop if you want. The trip ends with us sailing into the first part of the canal towards Frederiksværk town and then back to Hvide Klint. The journey takes 2 hours and is incl—a guide and life jacket as well as instruction.

The Comfort Adventure Package is a rental of pedal kayaks, where you sail away yourself.
Suppose you would like to explore North Sealand on your own. So book a luxury kayak for delivery where you want your trip to start. The pedal kayaks are fun, fast, seaworthy, easy to sail in, and comfortable and sit in. Enjoy a day on the water with your family or friends.
There are single kayaks and double kayaks. The kayaks can be delivered within 40 min. in the Halsnæs area at these addresses: Liseleje beach, Funkisvej / Hundested, Arresødalvej, Hvideklint, and at Kulhuse or they can be picked up at the address. You choose the place of delivery when booking.
Price for 8 hours and four kayaks DKK 2,600.- ex fee | Read more and book your trip
Additional price for single rental of kayak for 8 hours DKK 850.- ex fee
Other price children 13-17 years minimum 160 cm. DKK 650.- ex fee.
Practical information
There are life jackets for all kayaks
All sailing takes place at your own risk
Remember sunscreen
Day rent is 8 hours
Remember practical and possibly warm clothes
Remember drinking water
Remember packed lunch and possibly small snacks for the trip.