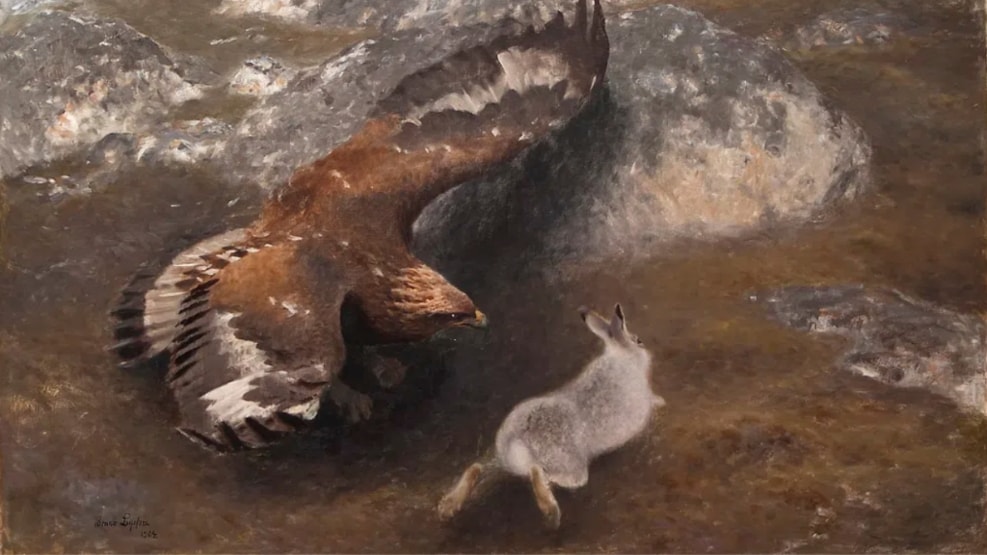 Among the most skilled natural painters in Sweden: See Bruno Liljefors at Nivaagaard
Experience the exhibition of Bruno Liljefors' captivating nature and animal paintings at The Nivaagaard Collection. Liljefors is known as one of Sweden's most talented natural painters, and you will see both beautiful and dramatic scenes from the animal world.
He portrays not the romantic, but the wild and dramatic wildlife
Bruno Liljefors' (1860-1939) paintings are characterised by a realistic and raw, yet poetic, depiction of the animal world.
When you see his paintings, you will witness dramatic scenes from Swedish nature: a fox about to eat a bird and blue tits fighting. But the paintings also depict more tranquil scenes, such as a hare running through the snow.
Poetry arises nonetheless in the dramatic moments, in the beautiful compositions and refined brushstrokes. The images simultaneously appear photorealistic and painted.
Further reading: The Nivaagaard Collection – Danish Golden Age, rhododendron park, and contemporary art
Hunter and outdoorsman with profound knowledge of wildlife
Bruno Liljefors was an avid hunter and a great lover of the outdoors, and it is through his many hours in nature that he acquired such profound knowledge of the lives of wild animals.
His main passion was nature and animal painting, using quick brushstrokes to create a natural light in his paintings. Stylistically, it borders on the impressionistic.
Icon in bird painting
Among many other animals, Bruno Liljefors enjoyed painting birds, and his bird paintings have since inspired many painters in the same field. His images have become icons within the genre of bird painting.