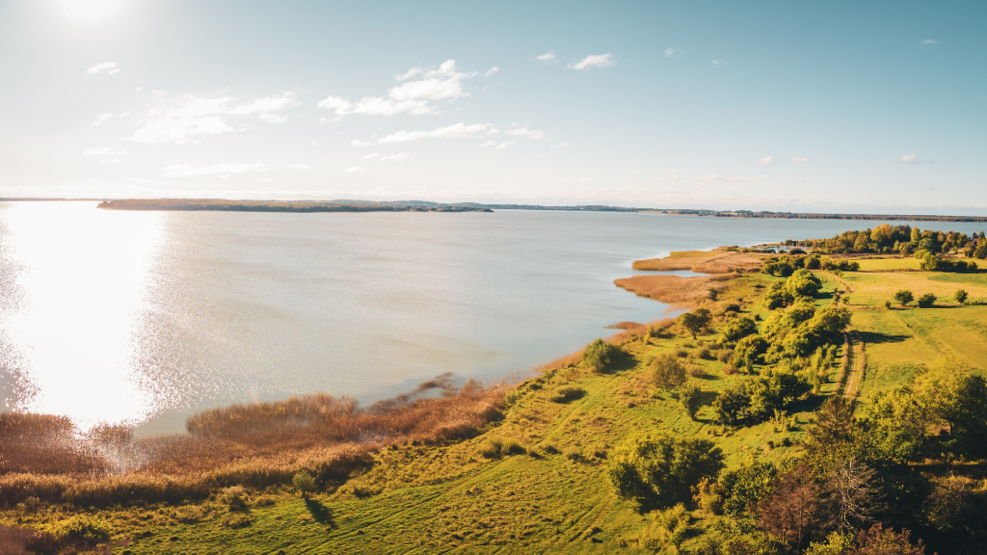 Arresø | Denmark's largest lake
Arresø is the largest lake in Denmark, offering many different outdoor activities.
The Ministry of Environment and Energy owns the lake. It borders on three municipalities: Halsnæs, Gribskov and Hillerød and runs to Roskilde Fjord through the Arresø Canal in Frederiksværk.
There is a large number of creeks running into Arresø, of which Pøleå is the most important. Especially along Arresø's west side, there are several hillsides, e.g. Maglehøj at Frederiksværk and Arrenakke Bakker, from which the lake is a fantastic view. East of Frederiksværk, the peninsula Arrenæs stretches out into Arresø.
Sailing
You can sail in the lake with all kinds of boats not driven by motor power. However, it is essential to mention that kite surfing is not allowed because of birdlife. Canoe and kayakers travel for several days, where they spend the night at campsites around the lake. In Ramløse, in the northern part, there is a yacht harbour, and there is yacht racing during the summer. From February 1 to July 31, a distance of 50 meters from the pipe forest must be kept for birdlife. The 50-meter zone is marked with yellow buoys. On the Nature Agency's website, you can see a map with zones and landing points.
Bathing
There has been a bathing ban in Arresø for several years because of algae growth.
Fishing
Fishing in Arresø is permitted, and fishing can be done from places that are legally publicly accessible and from a boat. It requires a fishing license to fish in the lake.
The story of Arresø
Arresø was originally a fjord arm from the Kattegat. Only 2-3.000 years ago, Arresø became fresh as the flat land north of the lake gradually rose after the last ice age. Until the 18th century, there were severe problems with floods at Arresø due to the sanding of the original drain, which ran through Arrenakke Å.
In 1717, hundreds of soldiers were commanded to dig a new drain. The work on establishing the Arresø Canal and the lock at Arresødal were completed in 1719. From the 1750s and onwards, the hydropower in the canal was used for both foundry and powder mills. The powder mill worked until 1965 and is today a museum.
In 1899, a "County Administrative Commission on Investigation of the Arctic Ocean Water Level" was established. Based on the - at that time - good experiences from Søborg Sø, they would investigate whether Arresø could be dried and the land used for agricultural purposes. The Commission supported the idea, but luckily the value of the gunpowder and the fishery and the lack of public financial goodwill meant that the project was not realized.
Today, the lake is designated as a habitat and bird protection area and therefore enjoys adequate protection against devastating interventions.