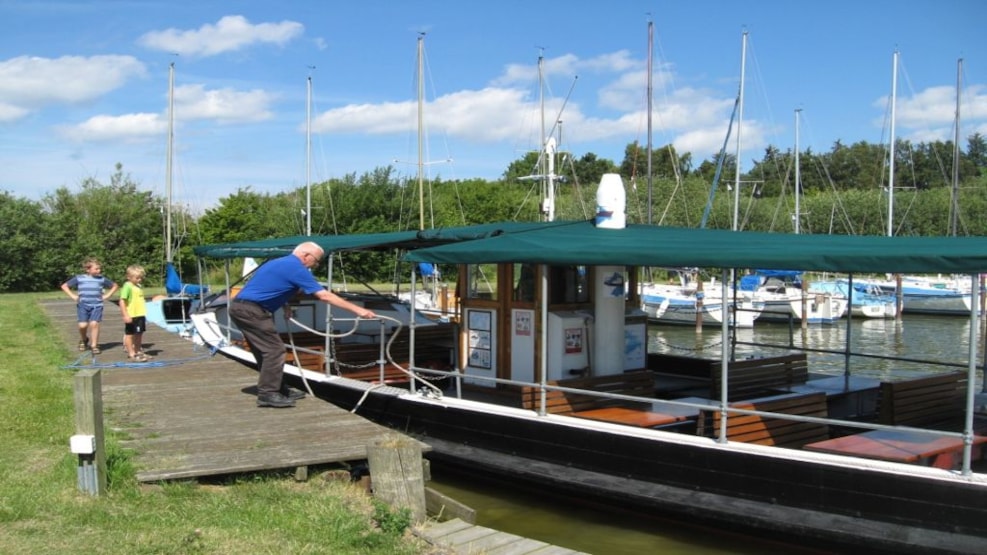 Arresø Sightseeing M/S "Frederikke" from Ramløse harbor
If you want to experience unspoilt and unique scenery, then take a boat trip with the M / S Frederikke tour boat on Lake Arresø - In June and July from Ramløse harbour on Sundays at noon. 
Join a sailing trip with the wooden ship M / S Frederikke on Arresø from Ramløse harbour.
Enjoy a wonderful sailing trip with the tour boat M / S Frederikke, the uncrowned queen of Arresøen. During the summer, M / S Frederikke sails daily trips on Arresø. The beautiful old wooden boat can accommodate up to 50 people.
Frederikke sails from Arresødal at Frederiksværk in North Sealand and is also happy to dock at the small Auderød Harbour on Arrenæs, but in June and July, she also sails from Ramløse Harbour on Sundays.
The trip starts at 12.00 and lasts 1 hour. The trip starts from Søkrogvej 61, Ramløse, 3200 Helsinge. | Buy tickets

Sailing schedule and booking of tickets: Sundays at noon From 3th July - 14th August | Book your tickets here
In addition to the ordinary sailing trips on weekdays and weekends, Frederikke has special themed sailing trips throughout the summer and autumn. These tours are with historical and cultural content.
Here you can e.g. mention; The night gala tour on Pentecost morning and Skt. His trip in the evening on Skt. His Evening and the last trip of the year is the Løvfaldsturen in September.
Count churches and find sights along the way
On the lake, it is possible to see as many as 5 churches; Vinderød Church, Ramløse Church, Annisse Church, Lille Lyngby Church and Kregme Church. Frederiksværk Church can be seen if you walk along the canal and towards Frederiksværk town. It is located right next to the wide path. Just near the boat, you can also visit the public Arresødal Park at Arresødal Castle, where there is also a path to a bird-watching area, with the most beautiful view of Arresø.
More experiences from the waterside of
With a canoe or kayak, you can row through the beautiful canal that winds from Roskilde Fjord, through Frederiksværk and to Arresø. Be aware, however, that there are two overtones on the road. If you row the whole of Arresø around, it is a trip of approx. 42 km. The area is provided for a possible overnight stay.
Sailing with smaller vessels without a motor is allowed all year round outside the bird protection areas. Windsurfing of allowed on the northern part of the lake. Kitesurfing is not allowed.
Practical information for the trip
For large groups of children, you are obliged to bring life jackets.
Bathing
It is not allowed to swim in Arresø due to the water quality. But the area offers many other wonderful experiences.