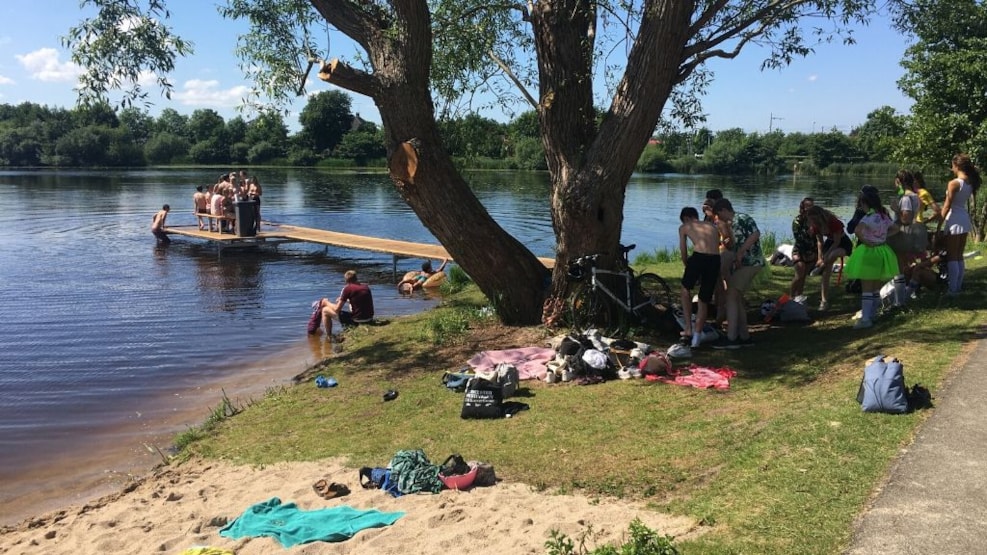 The bathing lake Teglgårdssøen in Hillerød
With its clean water, Teglgårdssøen is a lovely spot for relaxation close to Hillerød town center. You can swim from a small sandy beach with a bathing bridge in beautiful green surroundings. The water quality is excellent and is regularly checked during the season.
Take a swim in the middle of Hillerød
Hillerød has got a new bathing opportunity, in the middle of nature and yet quite close to the town center and good parking facilities. At Teglgårdssøen, below Frederiksborg High School, a small sandy beach and jetty have been established, in scenic surroundings. You can take a refreshing dip on hot summer days - or all year round as you see fit. The bathing bridge is permanent so that you can enjoy the lake and its surroundings all year round.
Check on water quality and amenities
During the summer season, a toilet wagon is installed, and a rescue post is available on site. Water quality is excellent, and it is ensured by continuous analysis throughout the season.
Supplement to outdoor activities
The opportunity to swim in Teglgårdssøen supplements the other outdoor activities in the area. E.g., the footpath around the entire lake, and path access to St. Dyrehave with the UNESCO World Heritage, the  Parforce Hunting Landscape.
How to get to the bathing lake
The address is Carlsbergvej 15, 3400 Hillerød, and the resort is just below Frederiksborg High School. If you arrive by car, you can park at Teglgårdssøen's free parking space at the southern end of the lake. If you choose to bike, you can use the high school's bicycle parking.