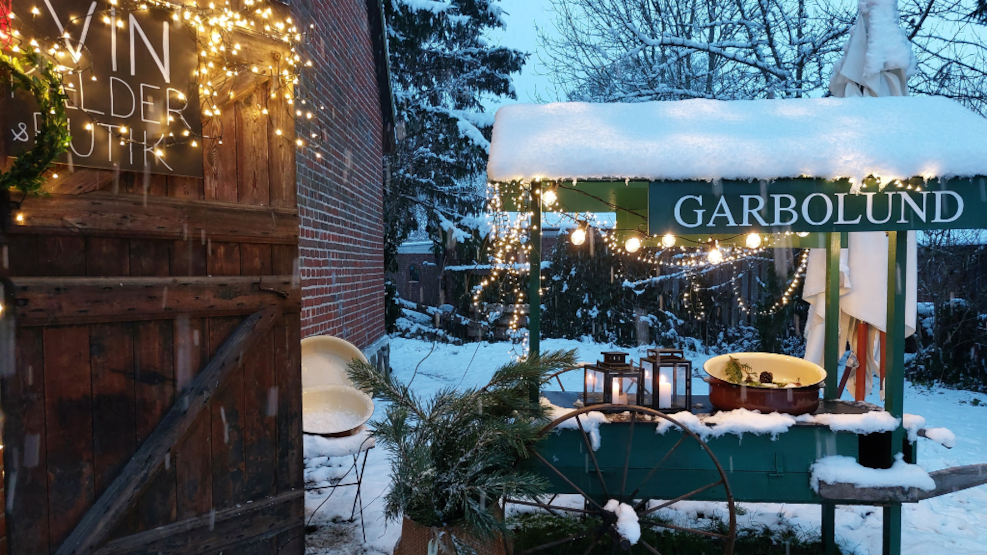 Christmas Market Days at Garbolund
Come to Christmas days at the Garbolund Vineyard with lots of Christmas cheer, fine Christmas and Advent gift ideas, and the estate's organic and mulled wines.
For the Christmas days at Garbolund, you can leisurely explore and find exactly the Christmas or Advent gift you're missing.
The shop's selection of Christmas gift ideas includes Christmas decorations, locally handmade products, and our range of Garbolund wines, books, baskets, enamelware, and much more.
Food & Drink
At "Møddingen," guests can enjoy roasting apples over a fire and warming up while soaking in the Christmas atmosphere at Garbolund.
The café at Garbolund in "Det gamle Maskinhus" offers delicious pancakes and mulled wine. Try, among other things, the pancake stand, where freshly baked crepes with homemade apple-vanilla mousse are served, and Garbolund's own famous mulled wine with organic rosé. 
"Pilgrimsstuen" is also open, so you can enjoy the mulled wine and panakes in cosy warmth from the wood stove with a view of the beautiful courtyard area.
Opening Hours
Saturdays and Sundays from November 25th to December 17th, from 12:00 to 4:00 PM.