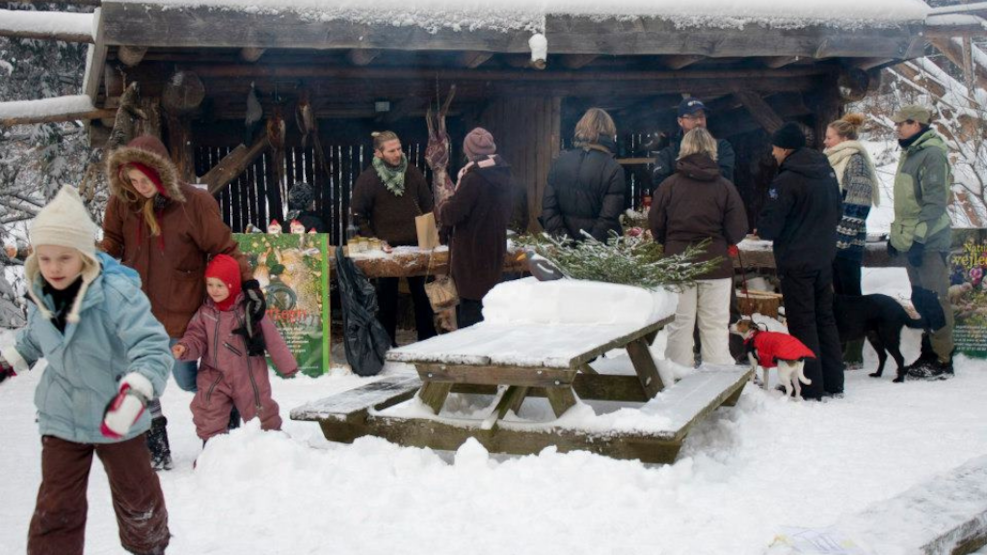 Christmas Market at Skovskolen
Bring the whole family when the Forest School ensures everyone gets in the Christmas spirit! When the Forest School's students invite you to the Christmas market, there are many possibilities. The forest elves and the students will ensure that you and your family get into the real Christmas spirit among wooden cabins and stalls that sell Christmas goodies so that they will crackle.
Get in the Christmas spirit with the Christmas market at Skovskolen in Nødebo.
The students are again holding a Christmas market at the Forest School in Nødebo for the whole family so that you can get into the real Christmas spirit. Put on the elf house and go out into the forest. Between thatched farmhouses and snow-covered Christmas trees, the scent of apple slices and glögg spreads. Follow the light of the torches into the heart of the Forest School, where jingle bells and Christmas choirs mingle with cheerful voices from Christmas rooms and elf activities.
If you are looking for Christmas presents for the family, or if you want to treat yourself, the Forest School has Christmas rooms and stalls full of locally produced crafts such as wood art, willow, knitting, jewellery, art and much more.
There will also be stalls with beautiful things for the palate for the coming Christmas days: sweet Christmas pastries, homemade jams and home-pickled vegetables, in addition to something extra special for the grown-up tongues such as mead and schnapps. If you get hungry along the way, they serve, among other things, delicious roast pork sandwiches, apple slices, glögg and hot cocoa.
If you need to rest your wallet, they have arranged many exciting Christmas activities for you and the kids. Come along to Santa's workshop and make your own Christmas decorations, or hear Christmas stories that you've never heard before. The hunting association will again this year bring pheasants, ducks and geese to you and show the brave how to arrange such poultry. It tends to be a hit with the kids too.
If you haven't found the perfect Christmas tree yet, don't worry! The students have carefully selected beautiful Christmas trees for cheap so you can light up the whole living room on Christmas Eve. You can also buy various decorations to extend the Christmas fun when you get home.
Practical information
Name: Skovskolen's Christmas market
Address: Nødebovej 77A. 3480 Fredensborg
Opening hours: December 3-4 at 10-15 and on 10-11 December at 10-15