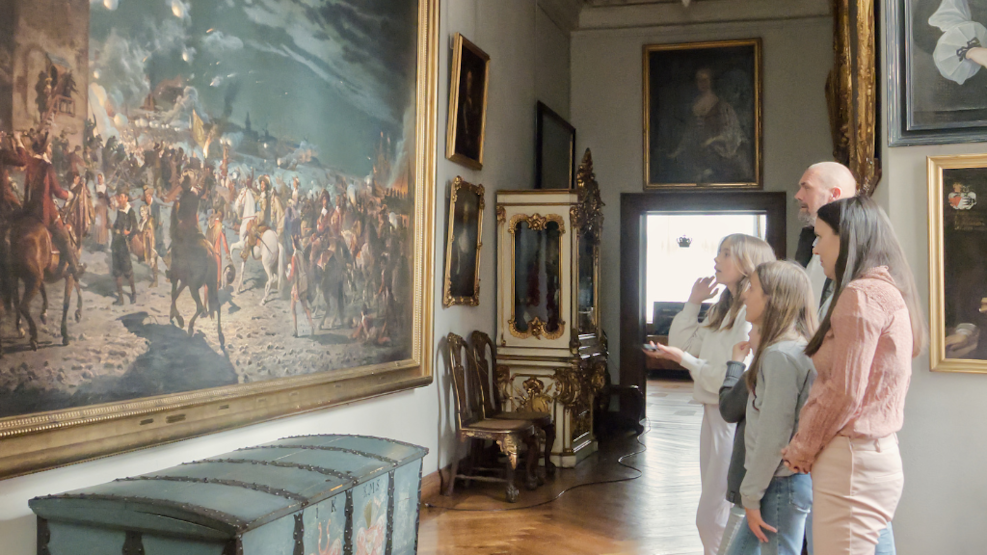 Danish History for Children at Frederiksborg Castle
Here you can immerse yourself in Danish history and hear about what it was like to be a prince and later king at the castle. Denmark's famous king, Christian IV, was born and raised in Frederiksborg.
History for children
The Frederiksborg Museum of National History offers lots of experiences for children. Visit the children's exhibition and activity room in the old wine cellar of Christian 4 or participate in the museum's many seasonal and holiday activities. Go exploring with the digital guide or take part in exciting trail games around the museum.
Track games
Take the children on a discovery of Danish history with one of the museum's trail games in hand, which consist of different themes and are aimed at children aged 6 to 12 years:
"Image hunt". By solving fun tasks, you can explore the museum's exciting history paintings and beautiful portraits.
"King of Denmark". Find out more about the king's family, wars, kingdoms and clothing and finally solve the 'Kings' quiz'.
Digital guide
With the museum's digital guide, you can move around at your own pace. The digital guide is made both with sound and as text, where you, as an adult, can read aloud to the children yourself. The guide to the museum is based on Christian 4's association with the castle, but along the way, you get to know several Danish kings and queens and events in Danish history. Download the museum app SMARTIFY here (only possible via mobile).
Dress up as a knight or princess
In the activity room, children can dress up in fine Renaissance dresses, suits and armour and be immortalized as little knights and princesses. The suits are tailor-made for children, as are copies of some of the unique garments you can see in the museum's historical paintings.
Write with ink and quill.
You can also try writing with ink and quill using templates from Christian 4's style book, colourize princess dresses and jewellery, or draw coats of arms and orders.
Children's History of Denmark
The museum's children's exhibition "Christian 4 - child and king" tells the story of Denmark's famous king with a focus on his childhood. What was it like growing up as a young prince at Frederiksborg Castle?
Martin Bigum's four great history paintings tell in a funny, cartoonish style about Christian's birth at Frederiksborg, his childhood and how he was raised to inherit the throne once.
The exhibition deals, among other things, with superstition, schooling and the young king's coronation.
Seasonal activities
Follow us on www.dnm.dk to see what is currently happening for children. The museum regularly organizes special activities in connection with holidays and special exhibitions.