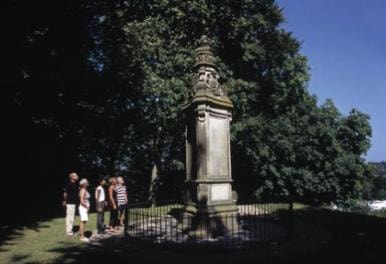 The Desertification Monument
The Sand Drift Monument in Tisvilde is an iconic landmark in the charming coastal town of Tisvildeleje. The monument was erected to commemorate the devastating sand drifts that once dominated the area, threatening to bury the entire town under the sand.
In the centuries leading up to 1730, the area that is now Tisvilde Hegn developed into a sandy desert. In the following years, progressive sand drift was halted through strenuous efforts to plant vegetation in the area.
The history of the sand drifts in Tisvilde begins in the early 19th century. At that time, Tisvildeleje was a thriving fishing village, beautifully situated by the sea and surrounded by dunes. However, the locals started experiencing massive sand drifts, where wind and ocean currents brought large amounts of sand into the town, destroying houses and fields.
The worst sand drift happened in the mid-19th century; it forced many residents to abandon their homes due to the destructive force of the sand. To combat the problem, extensive efforts were made to stabilize the dunes and prevent further sand drift. Trees and plants were planted to hold the sand in place, and various structures were built to protect against the onslaught of sand.
The Construction of the Sand Drift Monument
One of the most significant results of these efforts was the construction of the Sandflugtsmonumentet in 1738. Sculptor Anders Bundgaard created the monument with a large granite pillar to symbolise victory over the sand drifts. At the top of the pillar is a figure representing a woman striving to halt the sand drifts by firmly holding a dune with her hands.
The Sandflugtsmonumentet in Tisvilde is a testament to the local community's arduous battle to overcome the sand drifts. It also symbolizes the strong bond between humans and nature and the importance of protecting and preserving our environment.
Today, Tisvildeleje is a popular summer destination with beautiful beaches and charming surroundings. The Sandflugtsmonumentet has become a well-known landmark and a symbol of the town's history and triumph over the forces of nature. It attracts visitors from near and far who wish to learn about the area's past and admire the impressive sculpture.
The Sandflugtsmonumentet in Tisvilde is not just a monument to the past but also a reminder of the importance of protecting our environment and preventing similar disasters in the future. It stands as a symbol of hope, strength, and community, reminding us that even in the face of challenges, we can overcome them through collaboration and sustained effort.