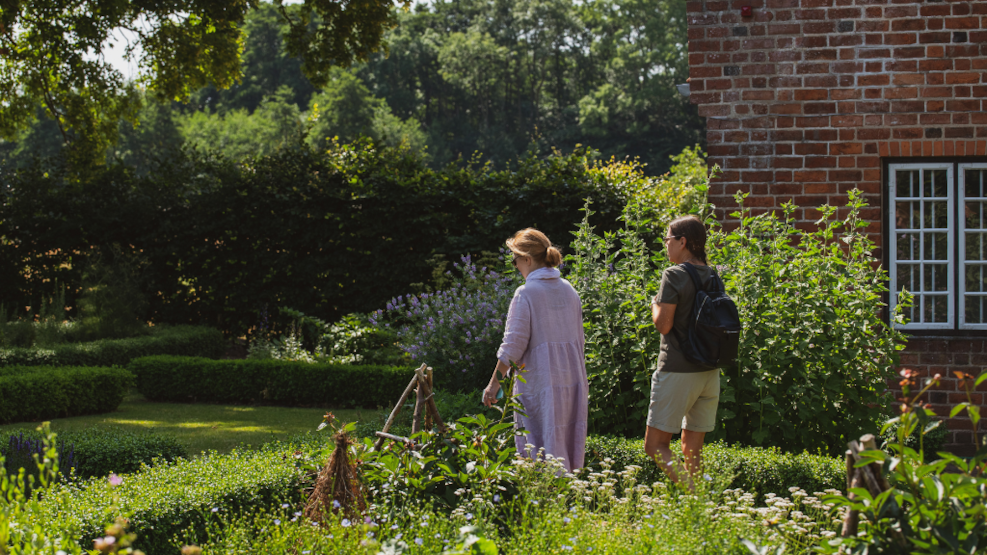 Discover the Scent of Herbs and the Magic of History in the Klosterhaven at Esrum Abbey
Are you also passionate about herbs, beer and marmelade? And would you like to learn more about wild and edible plants while gaining insight into the flavorful herbs that grow in the Klosterhaven at Esrum Kloster?
Experience the fragrances of the lush abbey garden in full bloom and taste the enchanting abbey products - including healing herbs, handcrafted beer, and delicious jams from renowned European monasteries.
Uncover the stories of Europe's Abbey Gardens.
Immerse yourself in the whispers of history as you delve into fascinating tales of Europe's abbey gardens. Discover how plants were revered as potent medicine - which ones worked miracles and which ones fell short of expectations.
Furthermore, we will explore the botanical universe within our own Klosterhaven. We will delve into the historical origins of plants, explore cultivation techniques, and how people of the past perceived nature.
Filled with surprising and amusing anecdotes, this event will introduce you to a world of quirky and entertaining stories - many with a twinkle in their eye. Take, for example, a "medical personality test" to uncover which bodily fluids you have too much or too little of, gaining insight into your unique balance.
Immerse yourself in the scent of herbs.
This is just a taste of the enchanting experience that awaits you in Klosterhaven. Lean back, open your senses, and be enveloped in the scent of herbs, the taste of tradition, and the wisdom of the past. There is ample time and space to explore and savour this unique oasis of history and culture. Welcome to a true paradise for the soul, where you can find tranquillity, immersion, and a world of natural beauty.
Practical Information
Date: June 11th, June 25th, August 13th, September 3rd 2023
Time: At 14:00-15:30
Price: Admission including tasting for 198 DKK | Buy your tickets
Location: Esrum Kloster & Møllegaard, Klostergade 12, 3230 Græsted