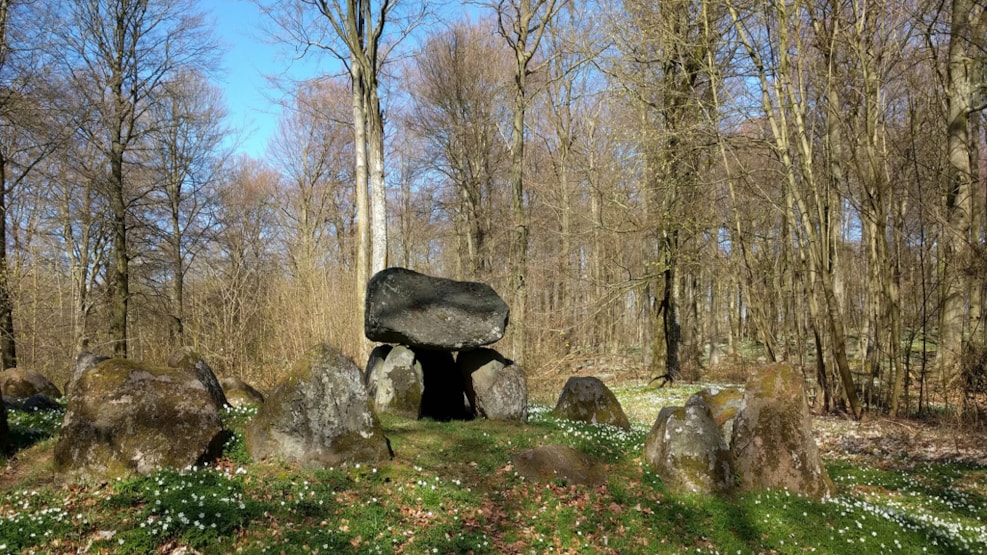 The dolmens in Valby Hegn
Valby Hegn is located close to the town of Helsinge. Here, you can work up a pulse while learning about the past
The health trail
The forest offers well-maintained trails which are suitable for travelling on foot and horseback as well as by bicycle. A special health trail is available with various nature exercise equipment. Close to the carpark on Bukarvej, you will find information on how to use the trail and assess your exercise capacity and BMI. The 2.6 km trail is paved to be suitable for wheelchair users and the mobility impaired. Disabled-friendly picnic tables and benches are located along the route. Around 300 metres into the forest there is a clearing with grass and a covered BBQ space.
Barrows
Valby Hegn offers North Sealand's best preserved collection of Stone Age barrows. The six long-barrows are approx. 5,000 years old and were used to bury the dead. When the barrows were built, they were surrounded by open countryside rather than woodland so they could be seen from afar. At each barrow, there is an audio guide with information about the Stone Age/ Neolithic.
The barrows are from the Neolithic period approx. 3,500 BCE. Today, there are 4,700 barrows in Denmark, excluding those that have been lost over time.

Until the middle of the nineteenth century, it was believed that the long-barrows were places of worship and that the top stones had been used as sacrificial stones or altars. It was also believed that the barrows were imitations of e.g. the pyramids. Today, we know that the first barrows in Western Europe were built approx. 1,000 years before the first pyramids.
The dead were given grave offerings in the form of earthen vessels, stone axes, amber beads and arrowheads. No objects were found in the barrows at Valby Hegn.
Practicalities
You can park by the forest edge along Bukarvej and Løgelandsvej. The local cycle route No. 702 runs through Valby Hegn. Movia bus route 360R and 361 stop at Bukarvej and from the bus stop there are only a few hundred metres to the forest.