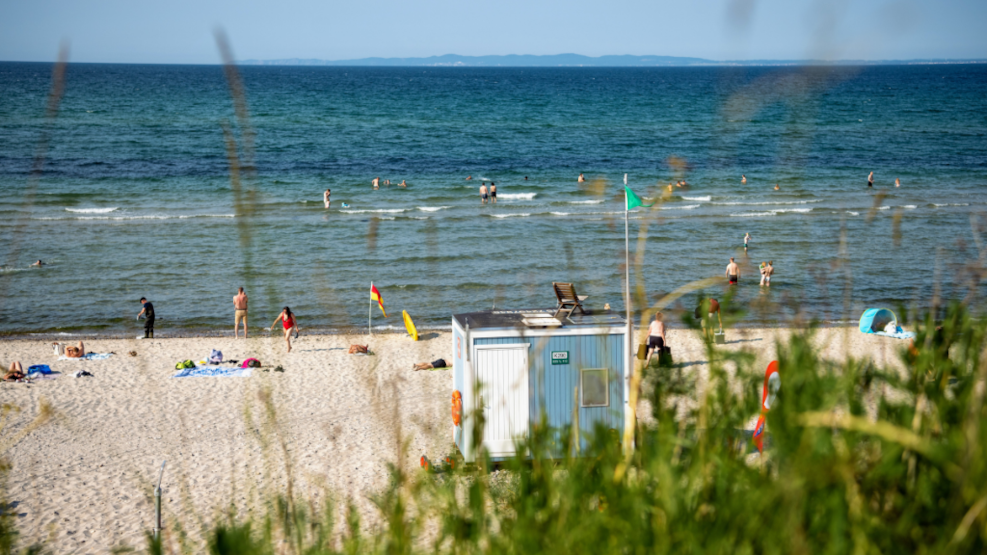 Dronningmølle Beach
Dronningmølle beach is one of the North Coast's best and most visited beaches. It is child-friendly, accessible for wheelchair-users on the eastern end, and staffed with two lifeguard posts in the season.
Dronningmølle beach lies snugly in the Dronningmølle Bay between Munkerup and Villingebæk, on the Hornbæk - Gilleleje stretch. Natural conditions have formed a beautiful wide sandy beach with low dunes where the water only slowly gets deep.
The beach is therefore child-friendly, often with shallow little lakes and pools, where the little ones can stroll in the warm water, build sandcastles and dig canals - of course, under the parents' attentive attention!
Two lifeguard posts on the beach
Dronningmølle beach is staffed with two lifeguard posts, one at Dronningmølle and one at the eastern end of the beach, at Villingebæk.
Facilities for disabled guests
 At Villingebæk, you will find parking on the land side of Villingebæk Strandvej. There is a wheelchair ramp from the beach road and right down to the water's edge and disability toilet.
At Dronningmølle town, there is parking, restrooms, and stairs down to the beach.
Blue Flag status
Dronningmølle beach has blue flag status, which implies:
Clean bathing water
Lifeguard and first aid equipment as well as lifeguards in some places
Emergency telephone at or near the beach or coverage so you can use  mobiles as an emergency telephone
Information on environmental conditions and natural areas
Toilet Facilities
Waste facilities and waste sorting
Information board