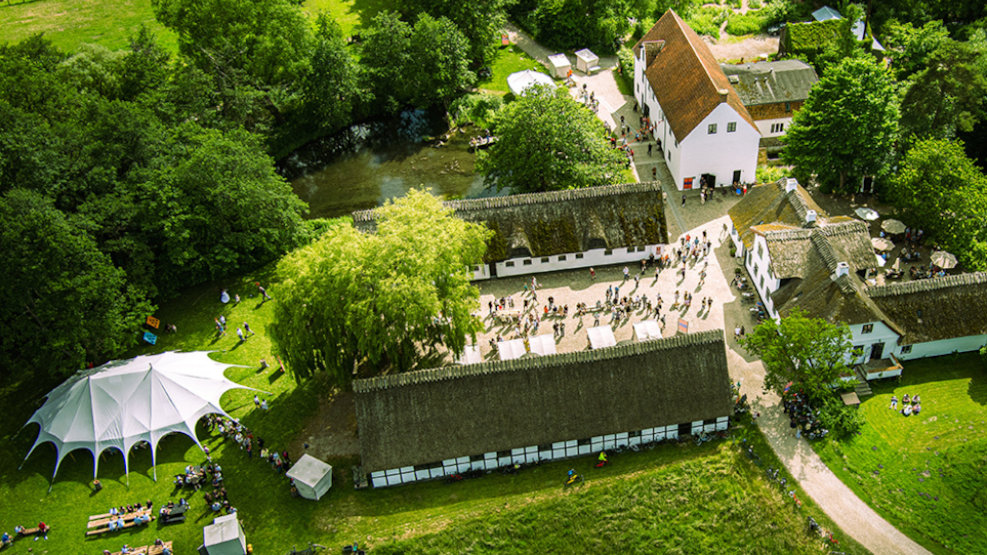 Embark on a beer journey through history at the Esrum Abbey Beer Festival.
The aroma of freshly tapped beer fills the air at Esrum Monastery on June 17, 2023, when the annual Beer Festival takes place.
Even the most discerning beer enthusiast will go home with plenty of taste experiences and bags filled with historical beers, monastery beers, hand-brewed beers, microbrews, and local brews - where twice as many brewers as last year have announced their arrival.
Double the amount of microbrews, hand-brewed beers, and monastery beers
Meet the brewmasters from Danish nano- and microbreweries. Taste their beer and have a chat about hops, yeast, flavour additives, and much more. If you stop by the hand brewers, which Esrum Monastery is highlighting this year, you are guaranteed to taste something you have never tasted before! Here, both the experienced brewer and the curious beer aspirant can learn more about the types of beer and the brewing process.
Fill up your beer stock with quality beer and have a chat with like-minded beer geeks about flavour nuances and brewing techniques. You can meet brewmasters from Danish nano- and microbreweries and taste their beer, and also talk about hops, yeast, flavour additives, and much more. In the monastery beer section, you can share knowledge and taste samples of monastery beers from around the world.
Date: June 17, 2023, at 11:00-20:00 | Admission including tasting glass DKK 175.- | Admission including 10 tasting tokens DKK 300.- | Buy your ticket
The History of beer - for Experts and amateurs
The beer festival in Esrum is a historical festival where you get stories and fun facts about beer in historical settings. The audience can attend a series of "talks" where inspiring beer enthusiasts and drinking culture historians will talk about everything from medieval brewing to spontaneous fermentation, wild yeast, and flavour additives.
Take-home shop and beer cafe
The festival site is more than just a beer tasting, it is an experience space on the green areas where you can sit down and take a break, eat some food and have a friendly chat. There will be hot and cold dishes and snacks to take around. The entertainment will take place in a large tent, and you can also compete against each other in knowledge and strength.
A beer festival in beautiful surroundings
Esrum Monastery and Møllegård are beautifully located in the Royal North Zealand National Park and are full of history and atmosphere. The festival is primarily held around "Møllegården," which consists of a historic watermill and thatched outbuildings. You can taste beer, sit down on a green spot and eat, or explore the festival site.
The beer festival brings people together around beer and creates a community across history, culture, and expertise. It is diverse and invites everyone - regardless of experience - to become part of the brotherhood. The festival is also a space for relaxation, where cosiness and a unique atmosphere are essential ingredients.