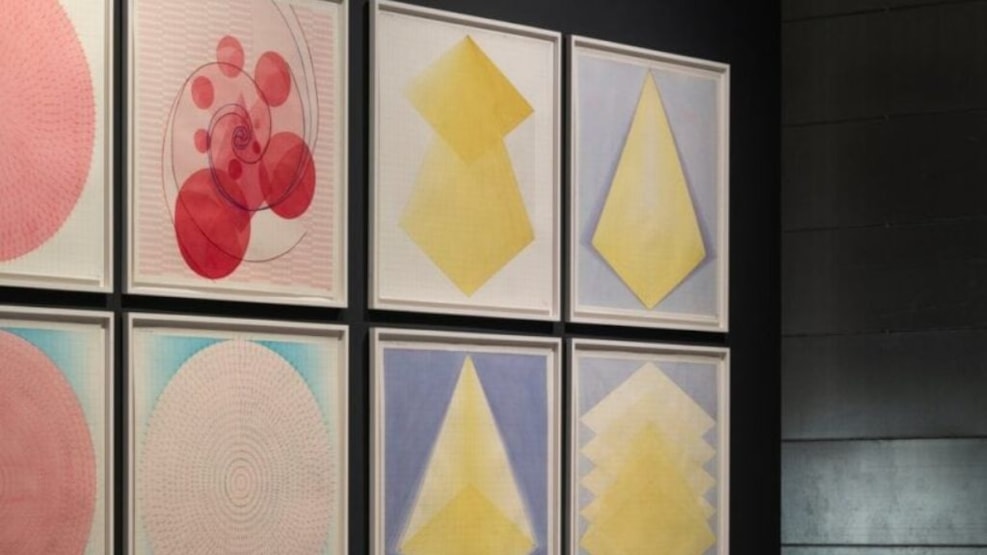 Error, Folds, and Mathematics - Ann Linn Palm Hansen at Munkeruphus
Experience Ann Linn Palm Hansen's mathematical investigations turned into art at Munkeruphus, where the exhibition "For det meste" (For the Most Part) showcases her sensual, angular, and experimental works.
Pictures throughout Munkeruphus
In the exhibition "For det meste" by artist and writer Ann Linn Palm Hansen, you will encounter the image series "Series of 134". As the name suggests, it consists of a plethora of images that run throughout the entire building.
You will also encounter new works that are the result of Ann Linn Palm Hansen's artistic investigations: Digital weavings, glass objects, and works made of woven paper.
Find opening hours and ticket prices at Munkeruphus
With the thoroughness of a researcher
When Ann Linn Palm Hansen approaches art, she does so with the thoroughness of a researcher. She engages in experiments and uses mathematics, among other things, to find patterns and folds - but also errors that can lead to unforeseen aspects of a work.
Visit Munkeruphus - contemporary art in a historic artist's home
Common interests with Gunnar Aagaard Andersen
Like Munkeruphus' former owner, artist Gunnar Aagaard Andersen, she uses the mathematical and systemic world to explore possibilities in form and colour. Ann Linn Palm Hansen works with scientific rules and breaks them again.
The results are graphic patterns that repeat themselves or move angularly over the paper. And it is soft, pastel-like colours that create a contrast to the occasionally rigid forms.
Up-and-coming Danish artist
Ann Linn Palm Hansen is both an artist and a writer. She graduated from the Design School in Kolding in 2012 and the Design Academy Eindhoven in 2012.
In 2021, she had her major breakthrough with the critically acclaimed debut novel "Igennem Landskaber" (Through Landscapes). She also received great attention for her large-scale work at the international art center Copenhagen Contemporary.