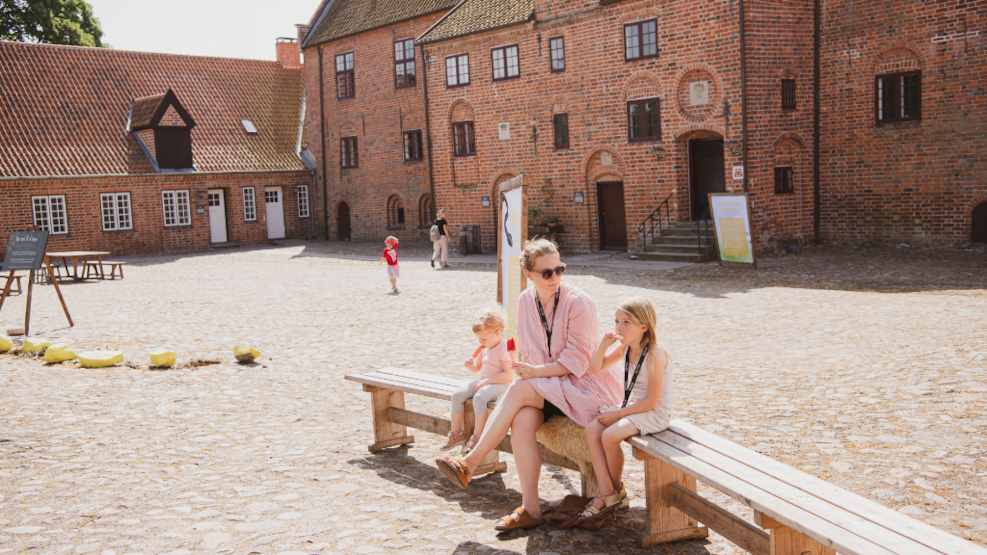 Esrum Kloster and Møllegård for Children | Experience the Magic and History
Let the children explore the history at Esrum Kloster & Møllegård. Experience the adventure of Eskild's magical day with a child-friendly story walk or put on VR glasses and tear down the monastery and rebuild it again.
Explore the medieval village and the children's world at the nature playground.
Let the children experience the adventure of Eskild's Magical Day through a story walk via an app. Download the Natureventyr app and take the children on an exciting and free story walk around Esrum Kloster and Møllegård whenever it suits you best!
Adventure of Eskild's Magical Day, Presented as a fun treasure hunt with challenges, Follows a child-friendly route of 1.4 km and a duration of approximately 60 minutes Designed for children aged 4-9. Concludes at the nature playground. Upon completing the story walk, you can receive a beautiful diploma in the shop.
Visit the Møllecafé
At the Møllecafé, you can colour the drawing from Eskild's magical day and enjoy delicious food and drinks.
Nature Playground
Esrum Nature Playground invites children and adults of all ages to play and move! The Middle Ages and its villages inspire the elements in the nature playground. Several elements are directly based on tools and buildings from this period. Here, you can explore a medieval world for children and imagine how children from different social classes lived during the Middle Ages.
Children's Own World
You can play as a son or daughter of noble knights at the grand fortress, Stormandsgården, with a moat and zip line. You can also attack the fortress using a swing that resembles a trebuchet. On the market square, you can be an apprentice craftsman and bake bread in the brick oven or climb around the old herring barrels. You can climb on pigs and play in a large pigeon loft at the farmer's house, just like children from farming families would.
When your legs need a break after challenging activities on the CrossFit course, you can sit in the dining hall with a packed lunch or use the fire pit to make twist bread or other food over the fire. The nature playground has free admission and is open 24/7.
Also, experience the magic of Esrum Kloster through Augmented Reality
Become part of an incredible journey through the grandeur and fall of Esrum Kloster. With an iPad in hand, you can explore the historical landscape, resurrect lost buildings, and gain a rare insight into the lives of the monks.
Be guided by the "Spirit of Esrum Kloster" and witness the story unfolding before you. Build the monastery, delve into the holiest places, and tear it down again. It's a unique location-specific experience where reality and the digital world merge.