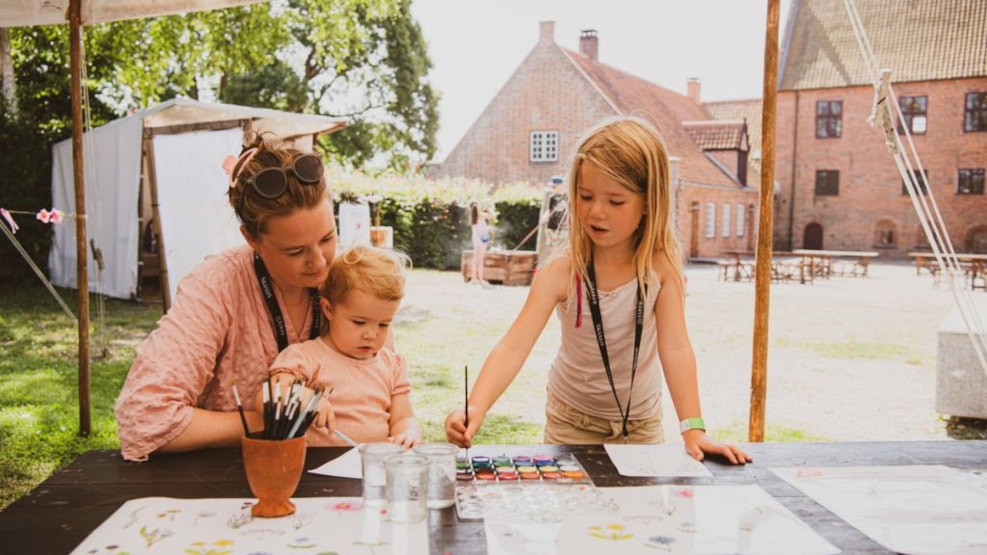 Esrum Kloster for children
Take the children to the Middle Ages at Esrum Kloster & Møllegaard. In the monastery courtyard, there is a special room for the children, where they can play into the history. 
Here they enter the Middle Ages, where they find knight equipment, knight horses and various medieval punishment tools.

Here they can also learn as cathedral builders if they master the difficult art of building arches in monk stone. And then they can make the difficult choice to go to the monastery. On the other side of the wall, they are with the novices, where you have to learn to write Gothic letters with feathers, pray and otherwise say goodbye to all personal belongings. And mom and dad.
Knight Market
There are plenty of activities for both children and adults at the third weekend in June. Experience a truly medieval atmosphere when Esrum Kloster holds its annual Knights Market. In the marketplace, it exudes life and great deals. The trade is interrupted by troubadours, jokers, storytellers, dancers and all kinds of good people. The pious monks teach medicine making and writing, and in the Knights' Camp, you can meet real Knights Templar and learn the art of shooting with a bow or fight and ride like a knight while roasting whole roasted suckling pig in the monastery courtyard.
School holidays
During the school holidays, there are always a lot of events at Esrumkloster and Møllegård. Every holiday activity, every year has its theme and the whole family can participate in the exciting and fun activities. And the activities are free once you have paid admission to the monastery. The programs can be viewed at www.esrum.dk
Still lots of activities
Festivals, holiday activities, food stories and much more are still held. See more at www.esrum.dk In the shop, you can get real monastery products, Trappist beer, local delights and much more. This is also where you can get information about pilgrimage, events and much more. The mill café is open as usual, just as there is free access to the Nature Playground, Klosterhaven and the outdoor exhibition "Klosteret i Landskabet".