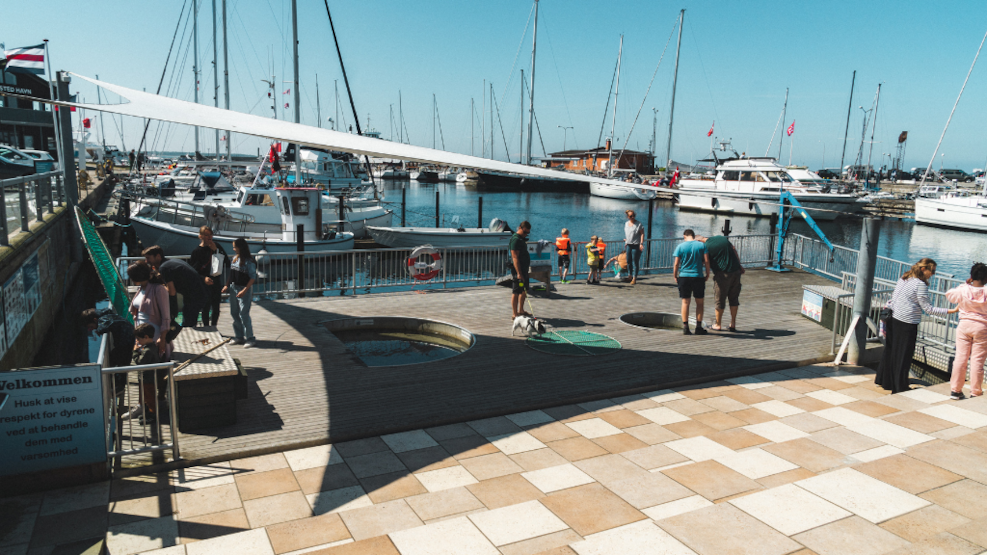 Expierence Platform
"Clap a fish" at Hundested harbour is an incredibly exciting attraction for children and adults - the 75 square meter floating platform is equipped with two shallow mixing basins. Every morning during the high season, the pools are filled with fishing flatfish and crabs, so you can get really close to the marvellous world of the sea.
Come to the harbour and have a fantastic experience on the large experience platform, where you can pet fish and catch crabs.
Every morning, different fish species and crabs are picked up from the Kattegat and the Isefjord by local fishermen, so there are fresh fish in the pools. The facility is open 24 hours a day, ie. you can visit it whenever you want, throughout the period from Easter to the end of October. During the winter period, the pools are closed and without fish.
To information
If there is a net over the pools when you arrive, it does not mean that it is closed, on the contrary, you MUST remove the net YOURSELF and set it aside. Likewise, the one who is last on the platform in the evening must put the nets on again. You do not have to book time on the platform. You just show up and it is open to everyone.
What else can you experience?
At Hundested harbour there is a lot to experience. And everything is within a short walking distance from the Clap a Fish facility. Among other things, you can visit the famous Sand Sculpture Festival, where the meter-high sand sculptures tower. 
When hunger or thirst arises, there is ample opportunity to quench your hunger or thirst at one of the harbour's many restaurants. You can also walk or drive for a short walk and visit the famous polar researcher's workhouse Knud Rasmussen's House, which is located in the beautiful rampart area with the most amazing views of the Kattegat.