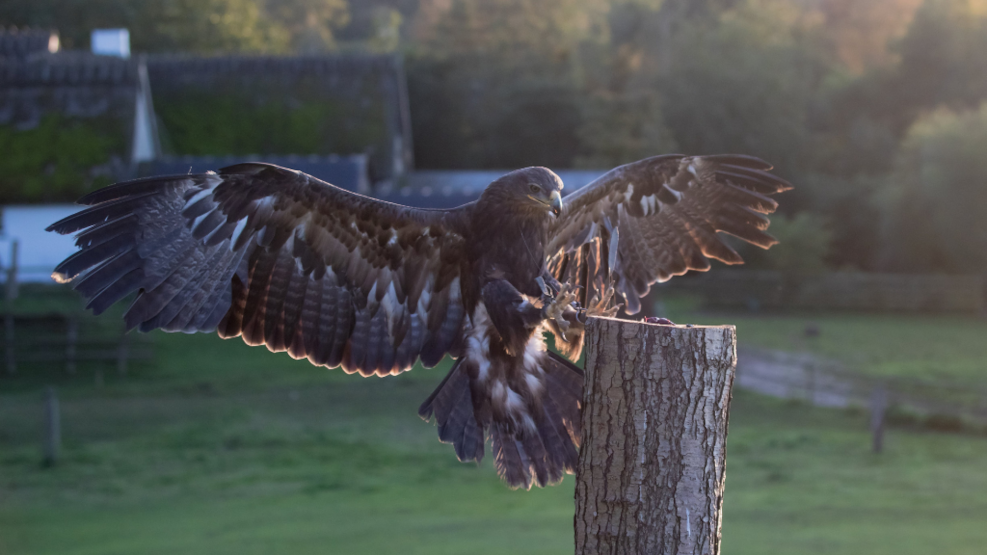 Falkonergården | Birds of prey up close in Fredensborg
At Falkonergården, just outside of Fredensborg, you can experience the thrill of history as the falconer's eagles, hawks, and falcons showcase their hunting and flying techniques up close.
Beautiful birds of prey at Falkonergården
The demonstration lasts an hour and takes you through the birds of prey training and stories about the falconer's birds and millennia-old hunting traditions. The training of falcons, hawks, and eagles takes place in an area that has been the hunting grounds of Danish kings and queens for almost 1000 years. 
During the summer and until the autumn break, Falkonergården showcases a rich selection of exciting falcon species, ranging from the beautiful American aplomado falcon weighing only a few hundred grams to the world's fastest bird, the peregrine falcon. Also, the gyrfalcon, may have been the first falcon species to hunt together with humans around 4,000 years ago. Additionally, we are one of the few places to see Eleonora's falcon—a small falcon with extended wings. 
In each of Falkonergården's programs, you will witness the training of 6-7 birds of prey. In addition to the exciting falcons, the Russian steppe eagles and American marsh hawks will showcase a different flight style than the swift falcons.
The program includes a segment where Edith Wenzel trains falcons on horseback as an extra feature. Not all horses or birds of prey can cooperate in this way. The Icelandic horse has previously been used for this type of hunting due to its surefootedness and ease of riding.
Ticket sales start half an hour before the program, which begins precisely and lasts for one hour, taking place outdoors.
During the demonstration, the birds of prey are trained, and millennia-old hunting traditions are brought to life through stories about the falconer's birds. The training of falcons, hawks, and eagles takes place in an area that, 700 years ago, was Valdemar the Great's hunting grounds and, 500 years ago, was where King Frederick II frolicked with his hunting animals and birds at Esrum. Now you can enjoy the beautiful landscape of lakes, forests, and fields as the backdrop to the falconer's training of the majestic hunting birds.
This attraction is free with the Copenhagen Card - Read more about the card here!
Practical information
Address: Davidsvænge 11, 3480 Fredensborg
Contact: +4521268863 or +4525139470 
Find more information and pictures at www.falkonergaarden.dk