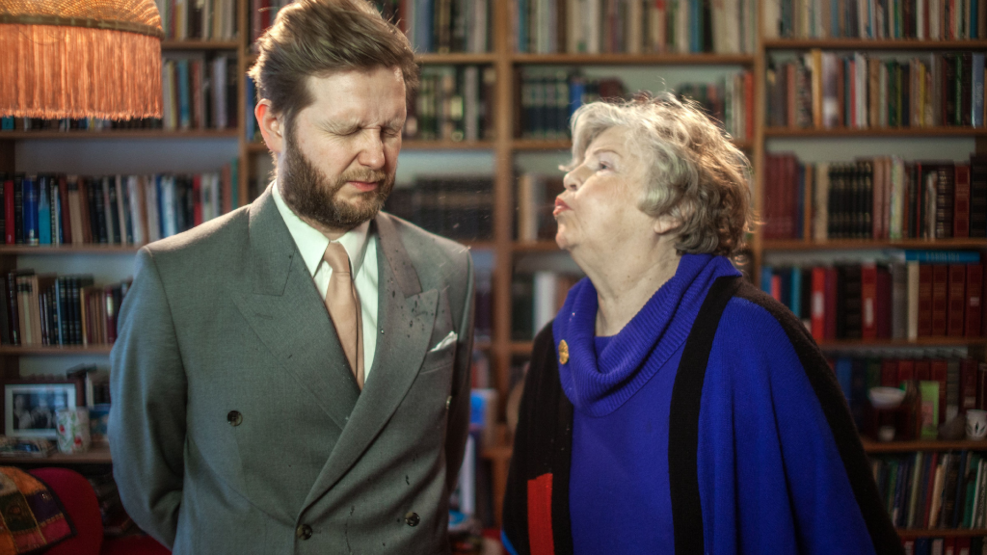 Is this fun? - Experience Ragnar Kjartansson at Louisiana Museum
Giant video works, moving music, and slimy bodily fluids. Is there a meaning to the madness? It can be difficult to answer, but it hits you right in the gut. Immerse yourself in Ragnar Kjartansson's art at the Louisiana Museum of Modern Art.
Should we laugh or cry?
Nine people playing a song from their own screens. A man getting spit on by his mother. Three men rowing in an old rowboat in front of a painting of a Nordic mountain. Should we laugh or cry? It's not necessarily easy to figure out when encountering Ragnar Kjartansson's art, but it's right there in the tension between tragedy and comedy that he hits you.
Ragnar Kjartansson is a master of the tragicomic. He is unsaid, he is felt. Experience him and, most importantly, feel him at the Louisiana Museum of Modern Art.
Find tickets and opening hours at the Louisiana Museum of Modern Art
A song played from nine screens
You enter a dark room. The walls are painted black, the lights are dimmed. The first thing you see is a huge TV screen with a man in a bathtub. He plays guitar, and from the speakers in the room, his fragile voice comes in a sensitive song.
Now you see the rest of the screens. They hang all the way around the walls of the room, they are huge, and in each image, a musician is singing and playing along with the song the man in the bathtub started. A woman plays the accordion, another man plays the drums.
Every time you go to a new screen, you discover a new aspect of the song - a new voice, a new instrument. It's a moving and sensitive experience.
Visit the Louisiana Museum of Modern Art
My mother spits
Another experience that sticks with you is Ragnar Kjartansson's spitting video work. The artist himself stands in front of a bookcase - and gets spit in the face by his gray-haired mother. For twenty minutes.
Why do we need this? It's not easy to say. It's repetitive, it's childish, it's contradictory and unloving. But if you have seen it live, in the huge size the video work has, there is no doubt that you will be moved.
An Icelander who masters most things
Ragnar Kjartansson comes from Iceland, and his art is known all over the world. He has exhibited at The Guggenheim in New York, Palais de Tokyo in Paris, and The Broad in Los Angeles, among others.
He is a multi-artist and exhibits both video works, paintings, and performances. In addition, he delves into political, pop cultural, and historical themes.