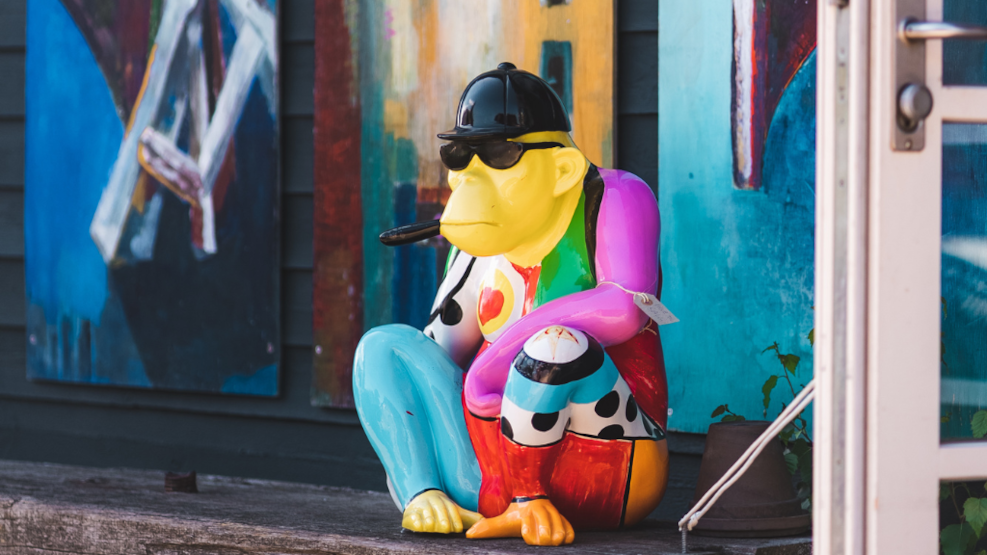 Galleri Liisberg | Art, Crafts, and Design
On the charming industrial and cultural harbour in Hundested is the modern international Galleri Liisberg. The gallery shows recognized Danish and international art and Annette Liisberg's works, paintings, and upcycled tables.
From the gallery, there is a view of the raw and authentic harbour on one side and the cosy cultural harbour with restaurants and galleries on the other side.
The gallery aims to seek out new art, find international partners, and display a wide selection of artworks. It is happy to engage in discussions with guests about the exhibited works and offers lectures on art as a driving force in societal development.
Current Artists at Galleri Liisberg
At Nordre Beddingsvej 31, Galleri Liisberg showcases a wide variety of art. Throughout the year, at least 5 artists are exhibited, all of the international calibre.
You can see paintings by Annette Beier Liisberg, pop-surrealist oil paintings by Lisa Lach Nielsen (currently exhibiting in New York), prints by Pamela Smilow, and original paintings by Gert Mathiesen, both from New York.
New artists exhibit for shorter periods every year, and there is always new art to admire and be inspired by. Stay updated on what's happening in the gallery.
Sculptures - Bronze, Ceramic, and Upcycling
Paintings and prints are complemented by sculpture and ceramics - see bronze sculptures by Morten Lykke and ceramics from The Clay Play.
Upcycling and recycling are also part of Galleri Liisberg's profile - see exciting upcycled tables, rugs made from recycled materials, and unique furniture brought from the East.
Explore the wide selection of older lithographic prints and posters from lithograph printer Rosengreen's legacy collection.
Groups are Welcome
Groups are welcome by appointment. Learn about art's potential to transform old industrial and other "boring" urban areas into exciting experiential zones. Lunch/coffee can be arranged for groups of up to approximately 20 people - contact Annette Beier Liisberg.