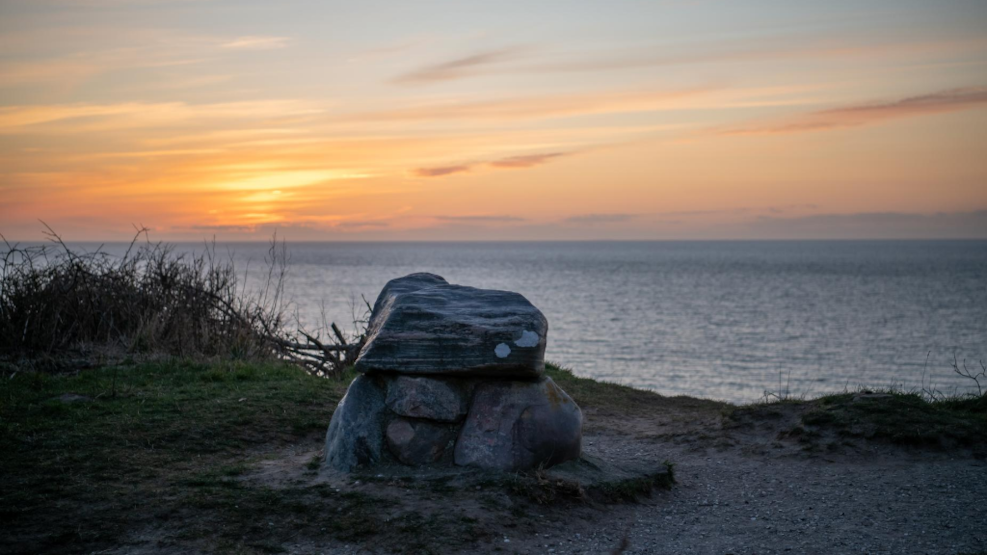 Gilbjerghoved
Gilbjerg hoved is a conservation nature area close to the coast. Here there is a cliff. A cliff that is placed so close to the coast and involve a lot of plant life only present few other places in Denmark. You can also see a memorial stone of a famous Danish author and philosopher.  
Gilbjerg Hoved located vest from the town, Gilleleje, between the town's villas and Smidstrups summerhouses. This green oasis at 25 acres is a conservation area at the Kattegat ocean.  
Because of the special coastal vegetation at the 33-meter-tall cliff is it protected area, that also is selected as an EU-habitat. Between the cliff and the road, Tinkerup Strandvej, is there a pasture that is also a part of the area.
To preserve the current condition, so there are not occur a forest, cattle are grazing here. The beach along the cliff is the beach where there are a few spots with groyne and other coast protections. Geologists think that all the many stones at the beach seems that the cliff is structured by lay from the ice age, and some of the stone types and soils is derived from Sweden, Norway and the Baltic Sea.
Søren Kierkegaard
At the path by Gilbjerg Hoved is standing a memorial stone for Søren Kierkegaard. The Danish author, philosopher and theologian were one of the first tourists at Gilleleje in 1835. Søren Kierkegaard enjoyed to sit at Gilbjerg Hoved to get inspired.
A few hundred meters further west, is there another stone standing. It is the Gilbjerg Hoved stone that nature has formed like a chair. From here you can enjoy the view and on the horizon, you can see the island Kullen and Hesselø.
Hiking and fishing by Gilbjerg Hoved
From the town, of Gilleleje it is possible to follow the Gilbjerg path and end at Tinkerup Beach. The path, which also is a part of Nordkystruten 47, is moving along the edge of the cliff. This route is 2,8 km.
If you are interested in wading fishing it is an opportunity to do by Gilbjerg Hoved