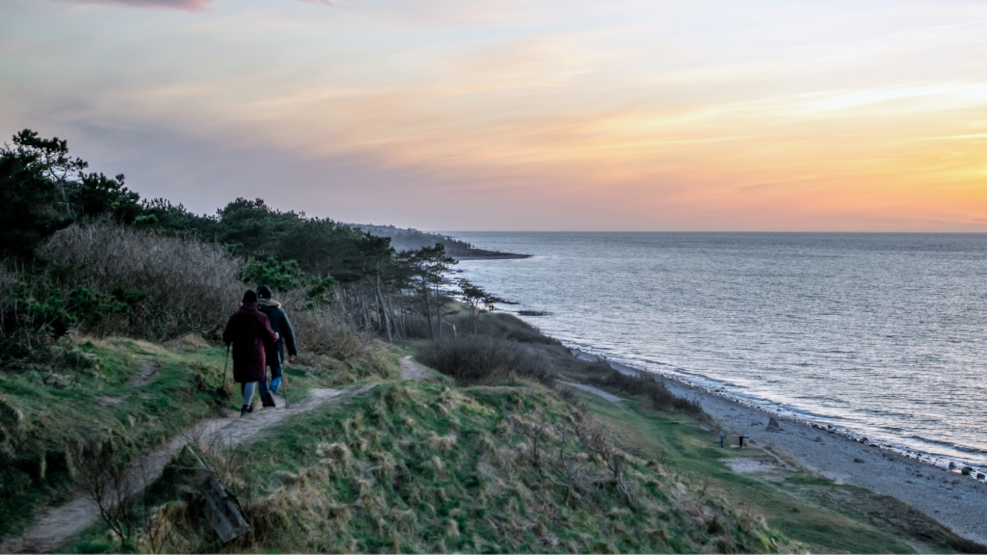 Gilbjergstien | A tour suggestion at Gilleleje
Gilbjergstien is a beautiful hiking trail, from Vesterbrogade in Gilleleje to Gilbjerghoved. There is a wonderful view from the up to 33 m high slopes beyond the Kattegat to Kullaberget (Kullen) in Sweden. Along the way, you pass the Gilbjerg stone and the memorial stone for the philosopher Søren Kirkegaard. The trip can also be done by bike.
With a beautiful view up from the high slopes, you can walk through the path through Danish nature and cultural history.
The path invites you to walk or run in the fresh sea air. If you come by car, there is also the possibility of parking close to the path.
Gilbjerg Hoved is part of the route and is not far from Sealand's northernmost point. The Gilbjerg trail is approximately 2.5 kilometres long and is an obvious option for an afternoon activity with the family. Most of the areas you come through are protected areas filled with Danish nature.
See this on the route
During the 2.5 km route, you can see the Gilbjerstenen, which looks like a chair. From here, you can see beyond the Kattegat and to the Swedish peninsula, Kullen. In the spring, the area is adorned by the newly sprouted purple plant, English grass. But there are also many rare plant species on the slope.
At Gilbjerg Hoved there are small waterholes, e.g. Solsortesøen, home to an endangered species, the Great Newt.
A short distance from the Gilbjerg stone, the Søren Kierkegaard stone has been erected. It is a memorial to the world-renowned Danish writer and philosopher, Søren Kierkegaard.
The route can start at the Tinkerup Stand, with parking options. If you want a longer route ending at the beach, it is possible to go from Gilleleje harbour to Tinkerup Beach. This hike is 2.1 miles.
Download the folder about the Gilbjerg path.