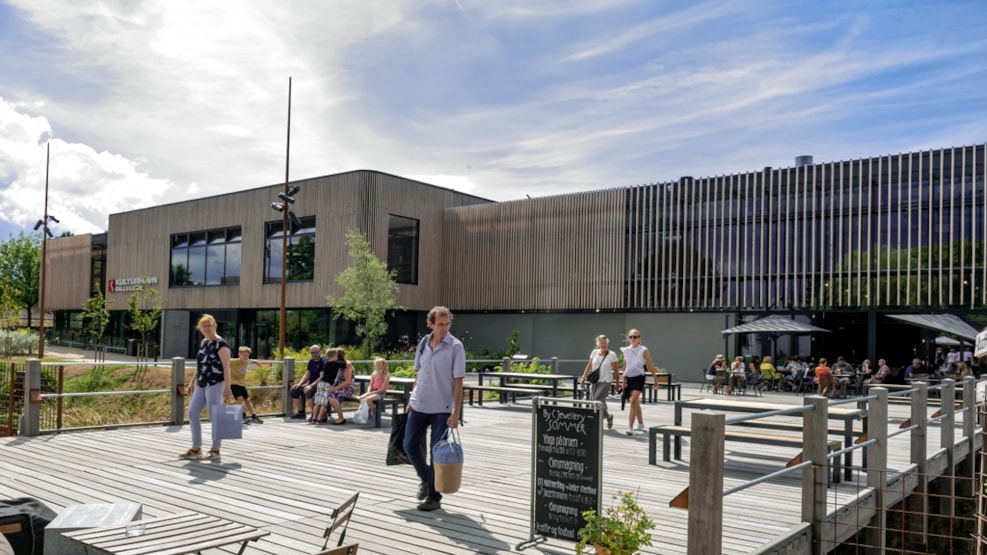 Gilleleje Culture Harbour
Unique and modern centre for culture - and community life in North Sealand. Classical and modern music, food, lectures, debates, art exhibitions, films and books.
Kulturhavn Gilleleje has it all and attracts several thousand visitors every week, who use the library or cinema, have bought a ticket to one of the many cultural events or eat in Restaurant Bolværket.
Kulturhavnen is also an architectural masterpiece, which you immediately notice at the main entrance to the foyer. Suitable materials and high ceilings have been the vision of the house. The moment you enter Kulturhavnen's space, you feel a unique atmosphere and pulse under the play between heavy and light, light and dark. There are plans for creative expressions, music, life and celebration, but also immersion and tranquillity - at the same time.
Summer fun for children at Kulturhavnen
There are no children who need to be bored; Kulturhavnen has lots of activities. Watch the program with summer fun for children at Kulturhavn Gilleleje.
Restaurant Bolværket
Restaurant Bolværket on the ground floor overlooks the canal and offers light meals, pizza and menus every day. There is high quality Danish / Italian food at a reasonable price—professional Italian pizza bakers and chefs who prepare available light dishes in the kitchen. Of course, everything is made from scratch, and only the freshest ingredients, including fish from Gilleleje Harbor, pass the utility room see the menu. The bulwark regularly forms the setting for events and offers menus for events in the rest of the house when it makes sense to the audience.
Gilleleje Library
It is also located in Kulturhavnen. Here is open self-service in the period 7 -22 every day. Here, everyone can borrow books and movies, use PCs and go on the Internet, or enjoy the view of Gilleleje and read the newspapers of the day. The library also has a nice playroom for the little ones. Find holiday literature at the library.
Changing exhibitions
The gallery corridor on the ground floor shows changing exhibitions with works by performing artists. The pieces are usually for sale, so here you can get a memory of Gilleleje to take home.
Two premiere cinemas
On the 1st floor of the house are two state-of-the-art premiere cinemas, which play films for all tastes. In the ticket sales in the living room, the volunteers sell sweets, chocolates, sodas and popcorn. Drinks and sweets bought in the house may be included in the cinemas - this also applies to items from Restaurant Bolværket. Watch the entire program and find your next movie experience.
The carpentry
In Snedkeriet and ByC on the other side of the canal, there are shops with Bl.a. handicrafts and beautiful and the Red Cross shop on the 1st floor is a treasure trove if you are looking for nice recycled clothes.