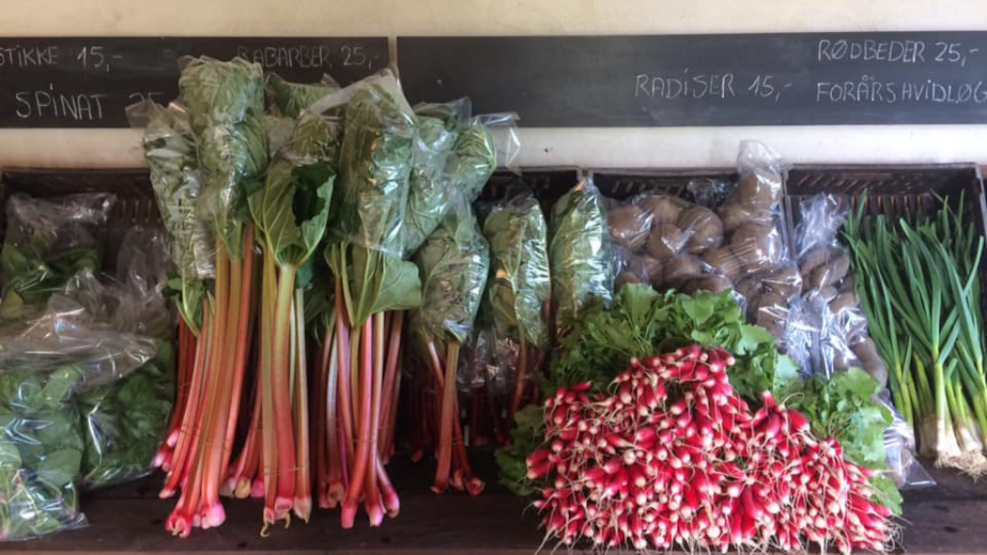 Greens from Kolsbæk | Fresh vegetables directly from the field
In the small village of Kolsbæk near Helsinge you will find a barn sale, which during the season offers 60 different kinds of vegetables. Here is everything from strawberries to potatoes, carrots, fennel, spinach, scallions, lettuce and asparagus.
Welcome to Green from Kolsbæk, where you can buy fresh vegetables, which we grow on our 5 barrels of land. There is a small room in the barn where you will find the day's selection of vegetables.

Everything is grown in the fields behind the barn. We use organic seeds and plants and grow vegetables without fertilizers and pesticides.
Seasonal vegetables
In April, the store opens when the first rhubarb is ready. Then more and more vegetables are added during the season what comes when depends on the weather.
In addition to rhubarb, there are garlic, radishes, spinach, asparagus, onions, pea shoots, arugula, lettuce, potatoes, dill, carrots, shallots, strawberries, peas, sugar peas, raspberries, blackcurrants, currants, gooseberries, parsley, rosemary, basil, fennel, squash, beans, beets, cabbage, Hokkaido, parsnips, leeks, broccoli, cauliflower, kale, kale, Jerusalem artichokes and bouquets. In addition, honey is sold, which comes from the hives next to the fields.
You are always welcome to go for a walk and look at the farm. Follow the paths and avoid stepping on the loose ground.
Self-service
It is self-service, and you can pay with MobilePay or cash.
Open
Every day from the first vegetables is ready in April through August 15th.