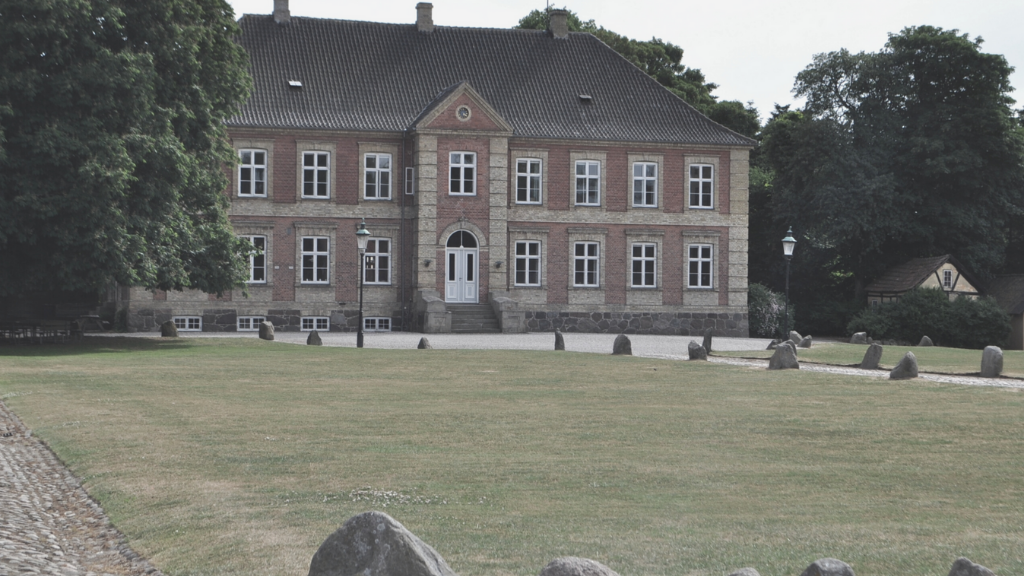 Grønnessegaard Estate
Grønnessegaard Estate has been part of the Halsnæs area for almost 250 years and has been owned and operated by the Hasselbalch family for the last 100 years. Grønnessegaard is located on the south coast of Halsnæs, surrounded by forest and overlooking the Roskilde Fjord. Grønnessegaard was founded May 13, 1776, by Johan Frederik Classen, who also established Arresødal and Corselitze.

Activities on the estate:
Shop & Café: Open every Thursday at 15-18.00 with local produce from our Hereford Cattle. We are members of Spisekammer Halsnæs, which is a collection of local food producers in Halsnæs.
Christmas Market: A large and exclusive Christmas market is held every year in December in the estate area.
TimeWinder, the Antique mechanics festival: In the Pentecost, the major veteran-mechanics event "TimeWinder" is held in the area.
Rental of rooms for companies and conferences: In the beautifully restored agricultural buildings there is a banquet hall. The large characteristic window sections and vaulted ceilings are preserved and have been carefully restored. The building has a newly established kitchen, toilets and wardrobe. The room can accommodate up to 150 guests with plenty of space for dance floors, decorations, buffet, bands, etc. The room can be hired with or without a cook and staff.
Requests for events, please contact alhasselbalch@live.dk or pr. telephone +4540318863
The story:
After the death of J. F. Class in 1792, the property passed to the Classenske Fideikommis, which sold the property to Prince Carl of Hessen (Frederik VI's father-in-law). In 1804 Prince Carl handed the estate over to his son-in-law, after his death in 1839 the property became state-owned. A few years after the end of the absolutist rule the property was sold to the Brothers Hellemann in 1859. Hellemann builds the main building and continues to sell the property to the holder of the Missions hotel in Copenhagen, Andreas Christian Nissen.

Grønnessegaard was sold on 2 March 1921 by Nissen's heirs to Dr Carl Hasselbalch. The property is now owned by Ditlev Hasselbalch, the 4th generation of the Hasselbalch family at Grønnessegaard.
Today the buildings and cobblestone pathways at Grønnessegaard are protected, so future generations can enjoy the unspoiled heritage.
The primary operation of the estate today consists of agricultural production. In addition, summer visitors to the property during can enjoy the sight of grazing Hereford cattle, as well as horses and sheep on the adjacent lands. The surrounding forests and lakes are full of life, with ducks, pheasants, roe deer and red deer.