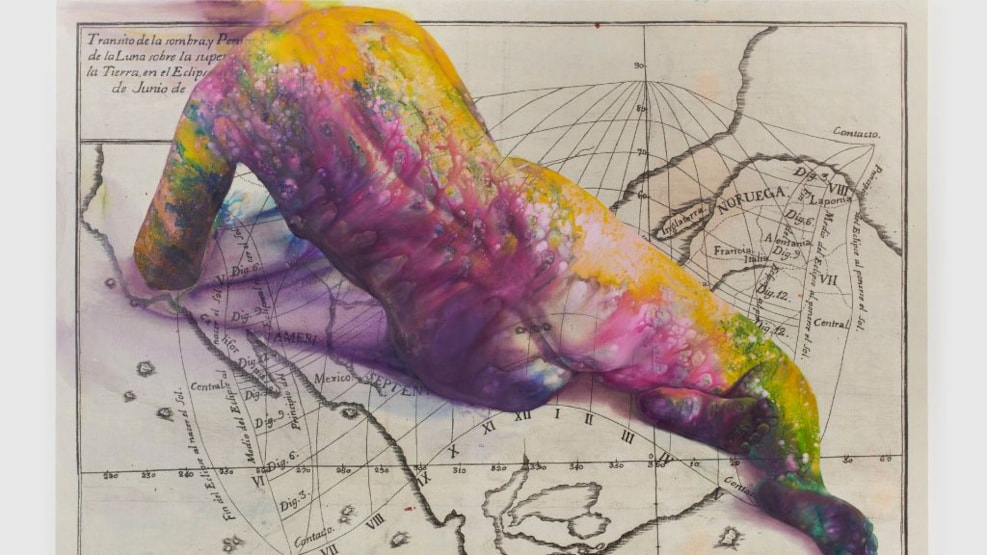 Hairy women's bodies and explosive colours - Firelei Báez exhibits at the Louisiana Museum
Step into the world of Dominican artist Firelei Báez, filled with women's bodies, postcolonialism, vibrant colours, and enormous canvases. Visit the Louisiana Museum and experience the artist's first major exhibition in Europe.
A confrontation with the victim role
What does it mean to be Dominican? To have a history of colonisation and enslavement? Dominican artist Firelei Báez engages with the past without turning herself or her compatriots into victims.
Through her works, she uses the human body to convey how we perceive power. She shifts the gaze away from the European perspective of "the new world" during the colonisation of the Caribbean and asks you, the viewer, to take a stance for yourself.
Experience Firelei Báez at the Louisiana Museum of Modern Art
Mythical figures and gigantic canvases
When you see Firelei Báez's paintings, you are immediately struck by the size of the canvases and the vivid colours. But you are also confronted with enormous women's bodies intertwining with maps from previous centuries.
Among them is the "ciguapa," a mythical figure from Dominican folklore - a female character who lures men into corruption and has feet twisted in the opposite direction.
Find opening hours and ticket prices at the Louisiana Museum of Modern Art
Making the outcast beautiful
Firelei Báez presents bodies in various ways. She works to make what is traditionally seen as different, outcast, and inferior, beautiful.
Therefore, you will see strongly hairy women's bodies, naked women's bodies in flowing colours of the entire rainbow - and you will experience her "ciguapas," who in folklore are seen as outcasts but in Firelei Báez's world are independent women with agency.
Visit the Louisiana Museum of Modern Art
The first major exhibition of Firelei Báez in Europe
Firelei Báez was born and raised in the Dominican Republic and is now based in New York City. She has previously exhibited at the Brooklyn Museum, New York, Pérez Art Museum Miami, and Berlin Biennale.
With the exhibition at the Louisiana Museum of Modern Art, it is the first time that Firelei Báez's works are being shown in a larger context in Europe.