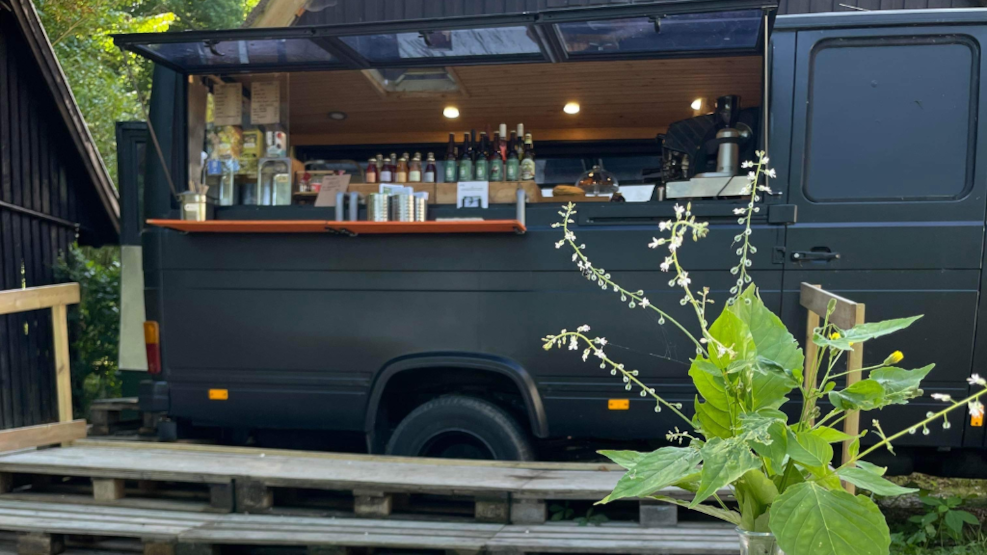 Haldbjerg Café by Tibberuphus
On the edge of Gribskov, and with a view of Solbjerg Engsø, Haldbjerg Café at Tibberuphus offers a café experience out of the ordinary.
There is easy access to the café by car via Kagerupvej and bicycle via cycle route 32 and for hikers in the local Kagerup/Gadevang area and hikers on the Tisvildevejen hiking route.
Organic coffee and home-baked goods with a view
Delicious coffee is served on freshly roasted coffee beans, organic hot cocoa and tea, specially selected for good quality. In addition, there is a variety of predominantly organic cakes and home-baked goods, fresh sandwiches on home-baked sourdough buns and local drinks; must, soft drinks, beer and wine.
This part of Gribskov offers the most beautiful, hilly hiking trails. There is plenty of opportunity for an exceptional nature experience at Solbjerg Engsø, as sea eagles or ospreys often visit during the season.
Space for bicycles, cars, horses and dogs
There is a spacious public car park right next to Tibberuphus. In addition, there are bollards and loan halters for "horse parking" and consistently fresh water for those who take their dog with them on a trip.
Opening hours
The café is open on weekends from 1 April from 10 am-5 pm and up to and including the autumn holiday week 42.
The café is the result of a collaboration between the Tisvildevejen walking route, the Norwegian Nature Agency and the Haldbjerg Nature Campus. At the time of writing, the delicacies are waiting on the counter from the charming food truck. Still, work is underway to renovate the beautiful forester's house from 1794 and furnish a café kitchen, café lounge, toilets and meeting rooms for the area's local associations.