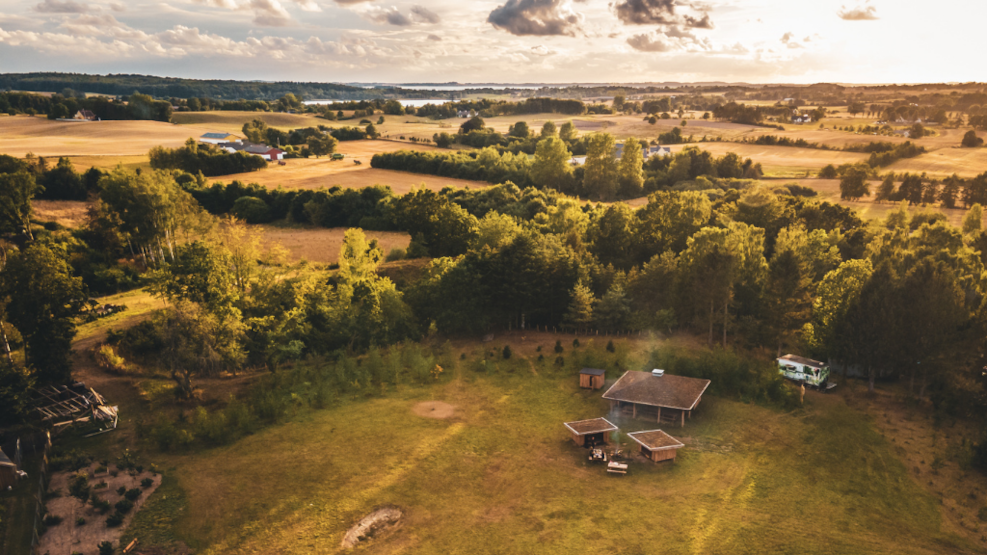 Haldbjerg Shelters
Haldbjerg Shelters - a natural gem in North Sealand. Welcome to the special nature at Haldbjerg, in Gribskov and the National Park Royal North Sealand. Just 30 min. from Copenhagen. Here you can take a break from everyday life, a stop on the bike ride or the hike along the Pilgrim Route Tisvildevejen or your riding holiday
Sleep in a shelter or tent on the nature-protected pasture with a view of Solbjerg Engsø and scout for eagles, or choose a place in the deep gorge, where the steep slopes provide shelter and a cosy atmosphere.

Your hosts on-site ensure you a good experience and good facilities, and can even offer a breakfast basket or a "Meal Box Haldbjerg" for food over a campfire.
Taste of nature - the establishment of forest garden
Your hosts are Tine and Tonny Pedersen, who over several years have developed the area with a desire to share this beautiful nature with others who, like them, find peace and joy in being in nature. Both are full-time employees alongside this project; Tonny in the IT industry and Tine as a leadership and team development consultant. But both are passionate about creating more natural and good experiences in nature, and an important element here is to cultivate parts of the area as a forest garden, according to permaculture principles.
In such a forest garden, guests will encounter trees, shrubs and ground cover, all of which can be eaten - either the fruits, berries, leaves or flowers. To begin with, fruit trees and shrubs have now been planted, later more shrubs, ground cover and herbs will find their way to the forest garden. As inspiration and for the visitors' enjoyment, several plant boxes have been planted with a fine mix of vegetables, herbs and flowers, which can add colour to the salad and bonfire food during the summer.
Activities
It is possible to order special experiences, e.g. a wilderness bath, a guided mountain bike tour in Gribskov, gourmet food over a campfire with expert guidance from a nature chef, natural wine or beer tasting with local products, a guided tour in the forest or climbing in the old oak trees. The area is also rented out to companies, as an extraordinary meeting place in nature. (see www.haldbjergnaturevents.dk)
Facilities
There are three shelter sites (and two more will be established in the autumn of 2020), three campfire sites and two large campfire houses that can create shelter for cooking and cosy in bad weather. Each shelter and tent site has its own campfire site and bench table. All guests have access to the campfire houses, ordinary toilet with hot water and tea-kitchen with refrigerator, coffee maker, kettle and electricity. There are free firewood and wi-fi.
Opening hours
Haldbjerg shelters are open all year round, and accommodation availability can be checked at www.haldbjergshelters. dk