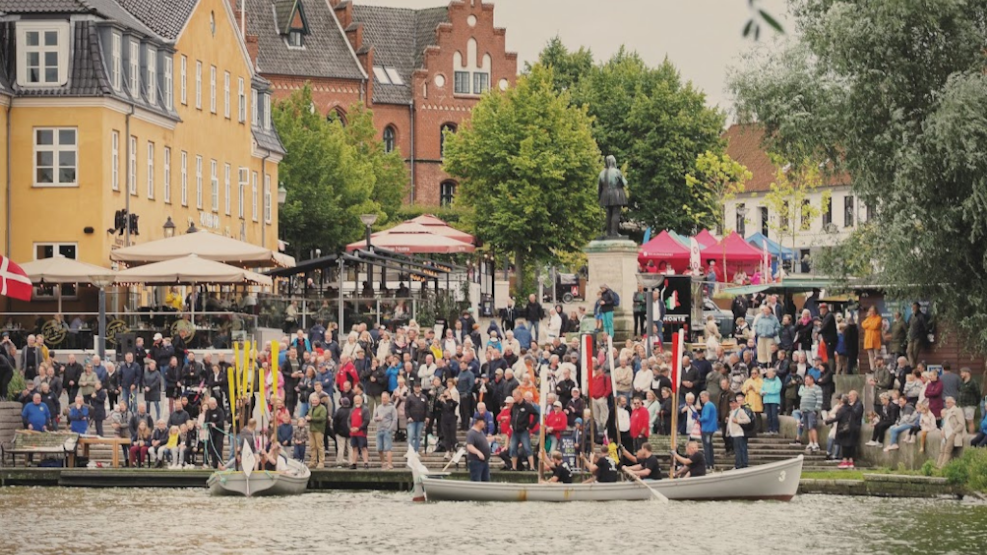 Hillerød Slotssø Dage & Denmark's Most Beautiful Longboat Regatta
Hillerød has something unique, a castle lake with a castle right in the middle of the city. So when the town festival occurs, activities on and around Castle Lake naturally play a significant role. You can attend Denmark's Most Beautiful Travalje Regatta on the castle lake during the Hillerød Castle Lake Days from June 9th to 11th, 2023.
Expect entertaining rowing in historic long boats, plenty of music in the streets, late-night shopping on Friday, a market square, and family-friendly entertainment, including balloon artists, a raffle, pony rides, bungee jumping, and clowns.
Historic longboat regatta on the castle lake
One of the highlights is the competition in rowing on Castle Lake. A long boat is a rather heavy, open workboat that was part of the equipment on naval ships in the 1700s and 1800s. Companies, associations, political parties, and citizen teams compete against each other in these beautiful boats to win the prestigious "oar" – and it's delightful entertainment for the cheering spectators on the lake shore. In the evening, there is a dinner that everyone can participate in.
Hillerød Castle Lake Days bring the town together
On the weekend of June 9th to 11th, 2023, the town gathers around the pedestrian streets, SlotsArkaderne, the stadium, and, most importantly, the Castle Lake for the 3-day duration of Hillerød Castle Lake Days. | See the entire program and learn more at www.hillerod.nu 
Children's Town Festival at Hillerød Stadium - Sunday, June 11th
The Children's Town Festival takes place on Sunday with many activities for children of all ages. Bring the family for a fun day with entertainment, face painting, balloon artists, clowns, children's activities, and, of course, food and drinks. Learn more about the Children's Town Festival at Hillerød Stadium.
Accommodation in Hillerød
If you need accommodation during Hillerød Castle Lake Days, there are fortunately good options, whether you prefer a hotel, B&B, hostel, or camping.