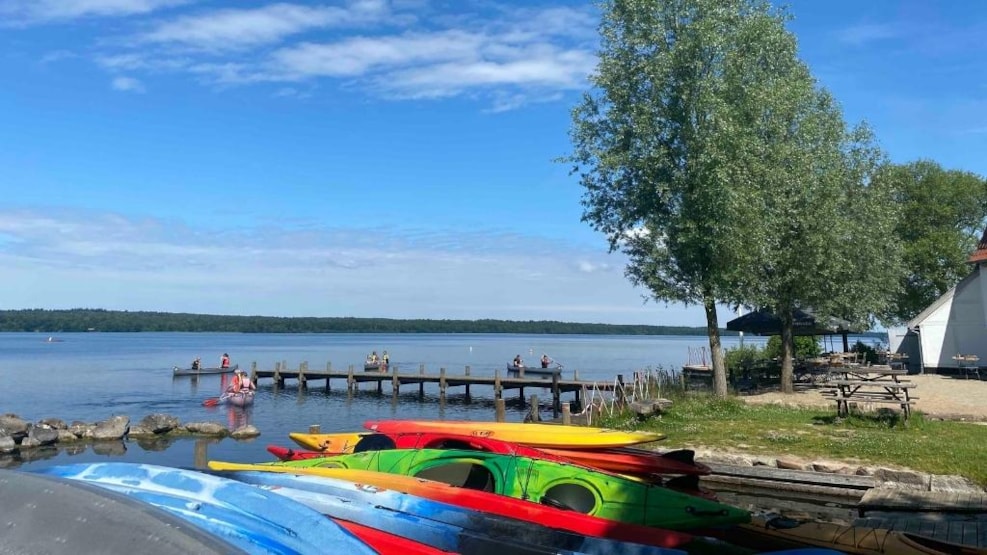 Kayak, SUP, and Canoe on Esrum Lake
Nature experiences and physical activity go hand in hand when you explore Esrum Lake from the water in a canoe, kayak, or on a SUP board. Based in a cosy little boathouse in Sørup, Sne & Vand offers rentals, courses, and events for groups.
Do you want to go on a canoe trip with the family?
Head out on SUP boards or take a kayak trip with your girlfriends or friends. Sne & Vand can help you. The canoes can be booked for shorter day trips or overnight trips. You'll find picnic areas along the lake shore where you can enjoy lunch in the most beautiful surroundings. If you want to go on an overnight trip, shelters and campgrounds are on the Gribskov side of the lake. Rental services are available from mid-May and close at the end of September. Read more and book at www.sneogvand.dk
Courses
Are you dreaming of learning how to kayak? Or mastering a SUP board so you can peacefully glide and experience the lake and lakeside while feeling you're using your body well? Get off to a good start and learn the proper techniques. Sne & Vand offers both short introductory courses and longer beginner courses. Our instructors are trained according to the IPP standard and certified by the Danish Canoe and Kayak Federation. We organize courses from the beginning of May until the end of September.
Events for companies, family groups, school classes, etc.
Sne & Vand also offers guided tours on the lake and tailor-made events with instruction and fun activities for larger groups. Whether you want to have fun with your colleagues, have an active birthday with the whole gang, or are responsible for organizing an excursion for a school class with parents, we can assist you. Call +452033 0033 to discuss the possibilities.
How to find Sne & Vand
Our boathouse is located on Skipperalle in Sørup, next to Restaurant Skipperhuset and Bådfarten, a little north of the ice cream parlour. There is a driveway at the bend where Sørupvej and Slotsvænget meet. Public transportation allows you to walk from Fredensborg Station in about 20 minutes.