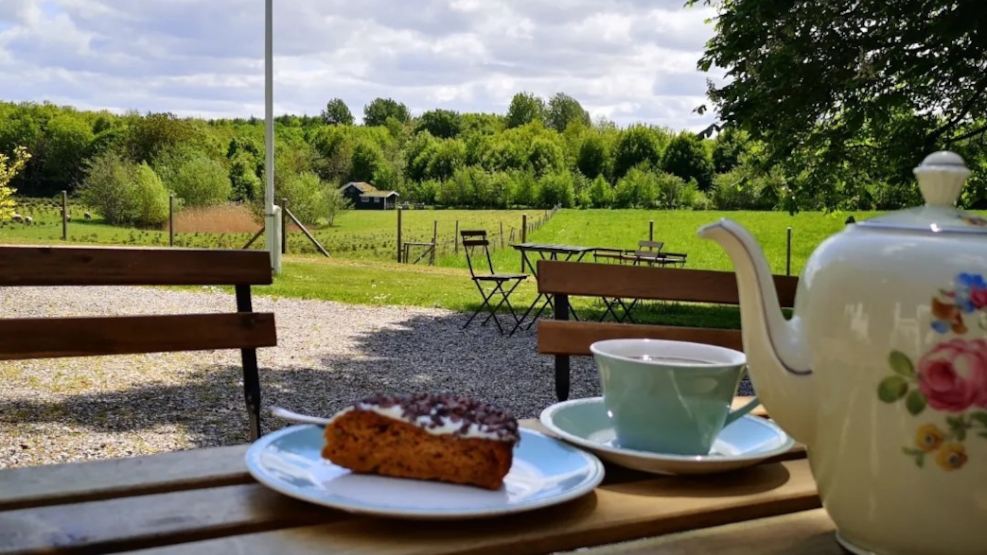 Lindedahls Landcafé - A Scenic Oasis for the Senses
Lindedahls Landcafé in Helsinge is a café for those who love outdoor experiences combined with culinary indulgence.
When you sit in the courtyard or find a cosy spot under a tree, with nature close by and an unobstructed view, you may completely lose track of time and place.
Lindedahls Landcafé is more than just a café - it is an oasis that awakens all your senses. Let yourself be enchanted by the scenic surroundings, your taste buds be pampered with delicacies, and find tranquillity in your soul.
Check the café's opening hours.
At the landcafé, you will find
• The opportunity to enjoy a light lunch, coffee, tea, delicious cakes, refreshing juices, and sodas. Flavorful and mouthwatering dishes cater to even the most discerning palate.
• an excellent view of happy sheep and chirping hens, contributing to an authentic farm atmosphere and creating an ambience of peace and harmony.
• A small shop where you can purchase locally made ceramics, homemade jams, beautiful dried flowers, and other exquisite crafts. Perfect for finding a unique souvenir or a gift for someone special.
• The possibility to visit the café as a stop during your hiking or cycling tour, and of course, by car. You will be welcomed with open arms and a relaxed atmosphere regardless of how you arrive.
• A delightful experience for people of all ages. The landcafé is where families can enjoy quality time together, where couples can find tranquillity and romance, and where friends can share memorable moments. There is something to suit every taste and interest.