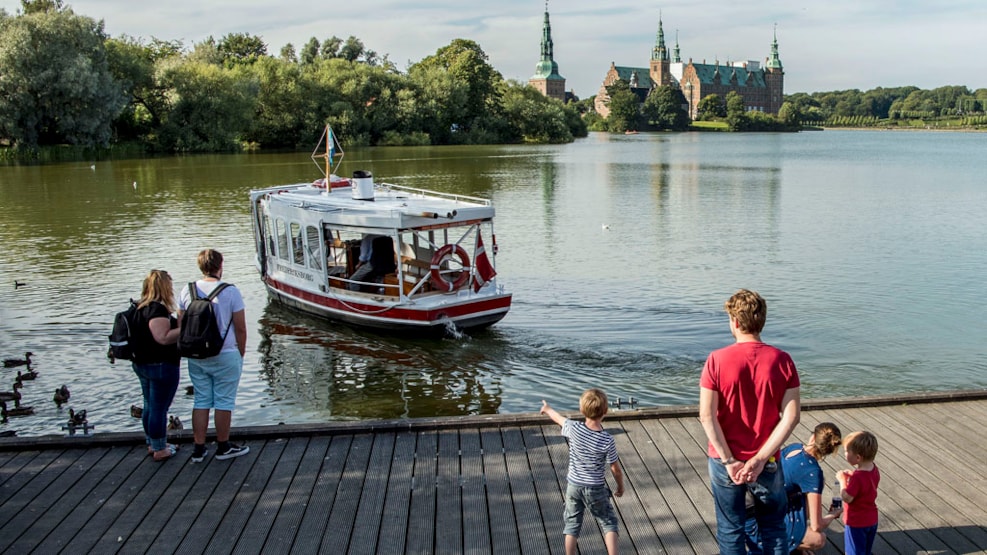 The Little Ferry M/F Frederiksborg on The Castle Lake
Go on a delightful mini-cruise on the Castle Lake, with one of North Sealand's most charming tourist attractions, The little Ferry M/F Frederiksborg.
The little ferry sails Denmark's most beautiful nautical mile on Castle lake in Hillerød.
Take a wonderful tour of Slotssøen in Hillerød with one of North Sealand's most charming tourist attractions, Den Lille Færge M / F Frederiksborg. It is a very special experience for children and adults to sail on Slotssøen and see Frederiksborg Castle and the Baroque garden from the seaside; along the way, the captain will tell you a little about what you see.
Where does the trip start?
Den Lille Færge has a jetty below Torvet and the statue of Frederik 7th. From here, the ferry sails to Rosenhaven, onto Barokhaven and back to Torvet. You can get off and board all three bridges.
Come sailing to Frederiksborg Castle.
Get on the ferry at Torvet and get off at the Baroque garden. And sail back to Hillerød from the baroque garden to Torvet.
Schedule
The Little Ferry sails from 15 May to 15 September, at 11 -17 every weekday and at 13 - 17 Sundays. Last departure from Torvet at 16.30 and 16.45 from the Baroque garden. During the autumn holidays (week 42), sailing from 12 to 16. Last departure from Torvet at 15.30 and at 15.45 from the Baroque garden.
The Sights
When you take a trip with The Little Ferry, you will pass the symmetrical Baroque garden with trimmed trees and shrubs and royal monograms. The big attraction to see is Frederiksborg Castle from the water and get close, in a completely different way. Here is a good opportunity to take some nice pictures.
Tickets
Children DKK 10, adults DKK 40. Tickets are purchased onboard and cannot be pre-ordered. You can pay with cash and mobile pay. If you have a Copenhagen Card, the trip is free. Strollers and bicycles can not be included. Due to its size, the ferry cannot include wheelchairs.