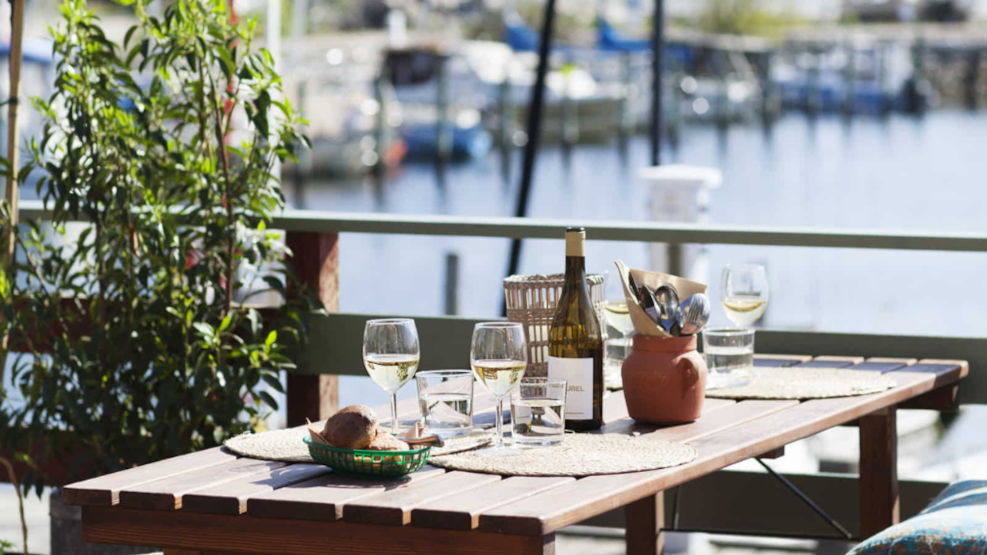 Lynæs Madbar
Lynæs Madbar is located right on the harbour edge and with a magnificent view of Roskilde Fjord. Here is high to the sky and views of the sea. 
With the first parquet to Roskilde Fjord, Lynæs Madbar at Lynæs Harbour offers unsurpassed good food and one of the most beautiful views in Denmark.
The restaurant is open all year round, and on the menu, you will find Italian and Nordic cuisine with seasonal portions, sourdough pizzas and local pasta dishes. Throughout the year, there will be various pop-up menus at Madbaren.
Practical information
Lunch on Saturday and Sunday from 12.00.
Brunch at 10am-3pm (Februar-march 2023)
Evening at 17.00-22.00
Party with a view
Lynæs Madbar will be happy to host your next event, meeting or party. Views we never go down on. You get the first floor to enjoy the view of Roskilde Fjord. We have put together different packages where you can choose what best suits your particular event. The framework is inspired by the style from Lynæs Surfcenter, so you get happy colours, an aesthetic interior, fantastic views and, not least, a relaxed atmosphere for your party. There is room for 150 people indoors. | See the different packages
What else can you experience in Lynæs?
If you are a water dog, you have ample opportunity to control your desires at Lynæs Surfcenter, which is just a short walk from Lynæs Madbar. If the weather is right, Lynæs Harbour is an excellent place to walk. At the front of the extended bathing pier, the bridge is a 360-degree panoramic view of both Isefjord and Roskilde Fjord.