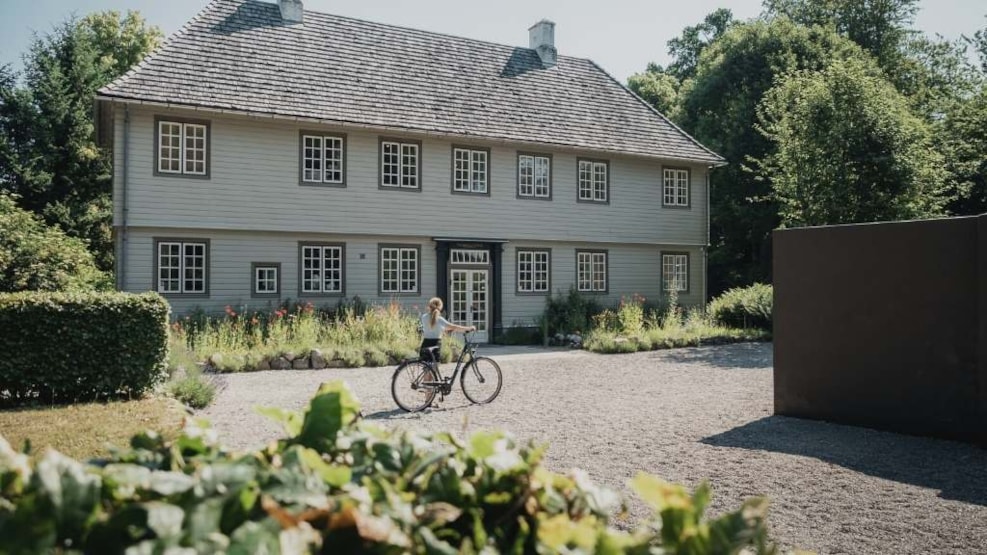 Munkeruphus - Contemporary art in a historic artist home
At Munkeruphus, art, architecture, design and nature come together in beautiful surroundings in an old artist home located on the coastline between Gilleleje and Dronningmølle.
Munkeruphus is a former artist home beautifully situated next to Oresund at the stretch of coast between Gilleleje and Dronningmølle, which has functioned as an exhibition site for art, architecture and design since 1989.
Exhibition site and artist home
Besides changing exhibitions with Danish and foreign artists, the house includes a small shop, a café with a view over the sea, outdoor service in the summer and an extensive public garden with sculptures. There is direct access to the beach through Dronningekløften, which is at the bottom of the park.
The hybrid artist Gunnar Aagaard Andersen
The story of Munkeruphus is closely interlinked with one of the most versatile and experimental Danish artists of the 21st century, Gunnar Aagaard Andersen (1919–1982), who lived and worked in the house together with his family in the period 1958 and until his death. In the garden room of the house, a permanent room about Aagaard Andersen has been designed where you, among other things, can see films about the artist's hybrid artistic life, covering wide from paintings, sculpture, architecture, stenography, furniture design, wallpapers, textiles, etc.
Café and shop
In the house's living room, there is a cosy café with a view over Oresund. Here, you can have light lunch arrangements, coffee and cake. During the summer, you can enjoy the delicacies of the café in the garden; on cold days, they have a log fire. You can buy their catalogues, books about art, photographs, architecture, design and landscape in the shop.
You can also buy homemade Munkeruphus honey from the local busy bees living in the garden, unique designs by Gunnar Aagaard Andersen, and small art items from other Danish designers and artisans.
The garden
Munkeruphus is beautifully located directly to Oresund. In this unique garden, you can look for works of art or find some of the many hiding and resting places. For some exhibitions, the garden and other outdoor facilities are used as galleries for temporary sculptures and installations. During the summer, the garden is also used for workshops, dinners, concerts and other public arrangements. The garden of MUNKERUPHUS is open to the public from sunrise to sunset.
Munkerup Park
In 2019, we took the first step together with committed artists, hundreds of curious school kids and Gribskov Municipality towards the dream of creating MUNKERUP PARK, an outdoor experience and learning environment where art and nature are in focus and where there is plenty of room! We have made a nice little film bout it. The many experiences gained will come in handy when next year's visions of an outdoor laboratory are realised. 
The Observatory
As a landmark for MUNKERUP PARK, Architect Simon Hjermind Jensen created the OBSERVATORY in 2019. It functions as a rendezvous and bonfire with good acoustics and a beautiful location. Thanks to the support from the Danish Arts Foundation, the Sonja and Hans Henrik With-Nielsen foundation and Knud Højgaard's Foundation, MUNKERUP PARK has got a spectacular rendezvous open for the public to use. We hope that you want to use it as well as protect it.