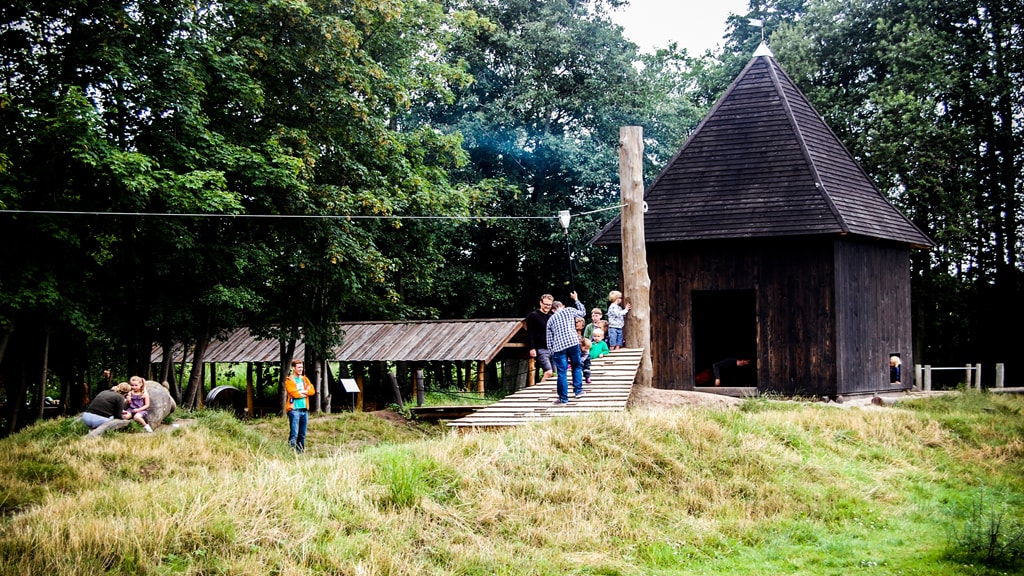 The nature playground by Esrum Abbey
Come back to the Middle Ages at Esrum Kloster's beautiful natural playground.
The exhibition room and the abbey vault will during 2019 undergo an extensive renovation. This means that the exhibition "Abbey life" and the reformation game "Faith, Power & Chaos" will be closed until the middle of October 2019. The festivals, holiday activities, food tales and much more will still take place. See more at esrum.dk.
The store has temporarily moved to Møllegården. Here you can get genuine abbey products, Trappist beer, local delights and much more. This is also where you can get information about pilgrimage, events and much more. Møllecaféen is open as usual, and there is free access to the nature playground, the abbey garden and the outdoor exhibition "Experience the landscape".
Esrum Abbey now has a brand new nature playground inspired by medieval villages, with plenty of opportunities for play and exercise for children and childish adults. It is open all year and the admission is free.
Fortress, ropeway, trebuchet, and eating house. The units of the nature playground are all rooted in the Middle Ages and the villages of that period. Several units are inspired directly from medieval tools and buildings. When your legs get tired you can settle down in the eating house with your lunch pack, or with twist bread coked on the open fire.
The playground lies east of the abbey by a pleasant nature trail leading from the parking lot.