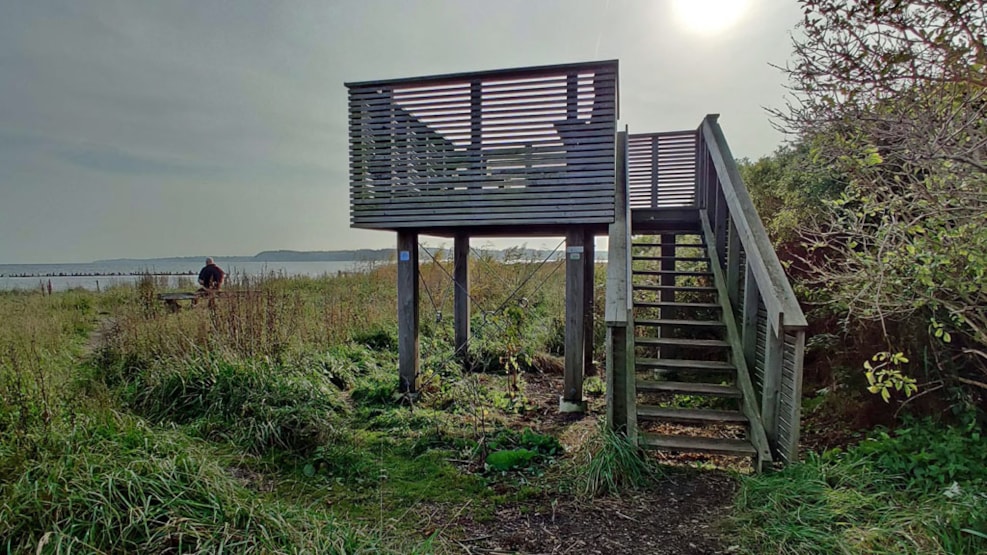 The nature reserve Nivå Bugt Strandenge
If you are a nature lover and bird enthusiast, the Nivå Bugt Strandenge nature reserve is worth visiting. Here a wonderful life unfolds all year round; it is the only open nature area on the east coast of North Sealand, where waders and other waterfowls have the opportunity to rest and forage on their migration to the north or south.
No less than 200 different bird species have been observed here. You have a good overview of the bird tower and can zoom in on the many fascinating birds that change with the season.
Birdlife all year round
South of Nivå Harbor, the landscape opens up in the large shallow Nivå Bay, with salt marshes, reed forests, water holes and the river Nive Å. The beautiful nature area is a vital bird location; here, thousands of birds make year-round stays to refuel for their further journey towards colder or warmer skies or to overwinter.
Unique and protected bird location
The area is unique on the Danish and Swedish Øresund coasts, protected in 1950. Since then, it has been expanded several times; today, the nature reserve comprises 21 hectares, which are managed by the Bird Conservation Foundation.
Since 2009, heifers and highland cattle have grazed the beach meadows in Nivåbugten. This leads to more light for beach meadows and overgrazing so that biodiversity is increased and living conditions for breeding birds such as vibe, redshank, shorebird and shore duck are improved.
How to get to the nature reserve
The nature reserve is located east of Strandvejen by Nivå, between Rungsted and Humlebæk. How to get there:
By train:
Take the coastal railway to Nivå Station. From here it is about 1.5 km on foot, a nice walk through the park at Nivaagaards Malerisamling and out to Strandvejen. If you want to shorten the trip, take a bus from Nivå Station to Nivaagaards Malerisamling, and walk from there through the park. 
With car:
The nearest address when searching is Strandvejen 331, 2990 Nivå. It is possible to park at the roadside.