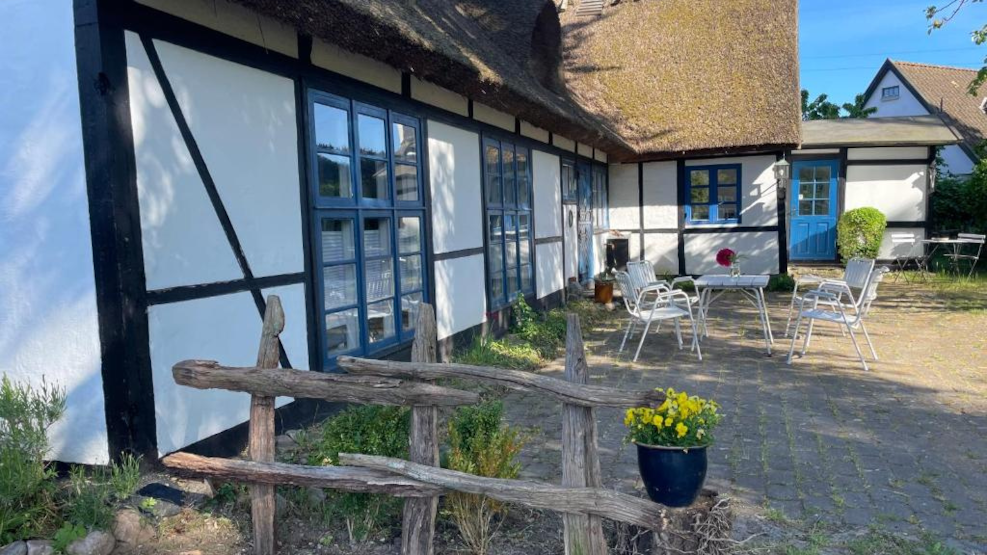 Nejlinge Keramik Bed & Breakfast
Stay at the Bed & Breakfast in the idyllic village of Nejlinge, located near Helsinge in North Sealand.
Enjoy a little getaway in this exceptional historic house situated in peaceful surroundings, with a focus on artistic details and surrounded by scenic areas.
We create a calm atmosphere; therefore, our guests are exclusively adults over 16. Each accommodation unit can accommodate up to two guests.
Choose between three unique accommodation units:
There are two rooms in the farmhouse and a guesthouse at the end of the garden. Room 1 is on the ground floor and offers two single beds arranged as a double bed if needed. Room 2 is bright and cosy on the first floor and features a spacious, luxurious double bed with adjustable elevation. Access to this room is via a staircase with a handrail.
The guesthouse is a private and secluded unit at the end of the large, beautiful garden. It has a kitchenette, refrigerator, and a small terrace. Please note that the toilet and bathroom are in the main house, approximately 50 meters from the guesthouse.
The old farmhouse boasts a well-equipped kitchen with a cosy dining area. In the garden, you'll find several pleasant seating areas, a furnished covered hacienda, an outdoor kitchen with a grill, and a greenhouse with two wicker chairs for enjoying cool evenings.
The bathroom and toilet are separately located on the ground floor and are artistically decorated, providing a unique experience. On the first floor, you'll find a cosy small lounge area with a sofa, books, a gramophone, and a TV with an HDMI connection for your computer.
Free Wi-Fi is available throughout the house, and the kitchen, bathroom, toilet, and lounge area are shared with any other guests.
You can add a delicious breakfast for 150 DKK per person per night.
The Little Extras
On-site, we also offer additional facilities, including ceramic courses and a sauna where you can enjoy your private sauna infusion with essential oils in our charming hexagonal straw-roofed sauna. Contact us for more information and booking.
Ceramic Workshop
Explore the cosy village or visit our sheep in the old apple orchard. You also have the opportunity to see our on-site ceramics workshop or even book a private ceramic workshop during your stay. 
Distances
From this idyllic farmhouse, it's only 10 km to the fantastic beaches of the North Coast and just 1.2 km to Helsinge, where you'll find shopping opportunities and restaurants. Copenhagen is only 45 km away, and the nearest airport in Copenhagen is just 56 km away.