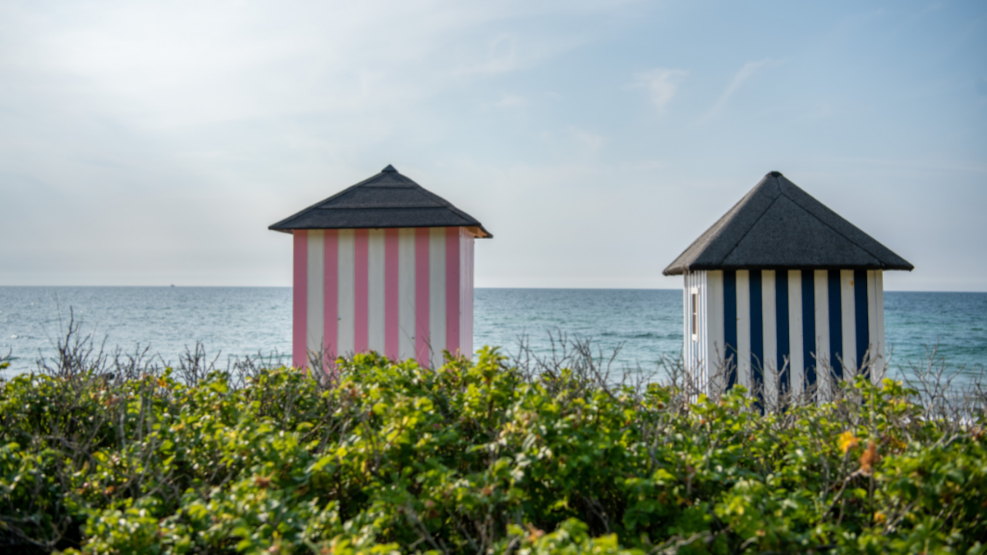 Rågeleje Beach - Striped bathhouses and seafront
When you follow Strandvejen in North Sealand, it suddenly turns all the way to the water. Then you have come to Rågeleje.
Striped bathhouses and beach promenade in Rågeleje
The most famous at Rågeleje Strand must be the iconic striped bathhouses. They are private but cosy to walk past and take pictures of when you are on the beach in the summer.
Jump in the water on a hot day or go for a long walk with the wind in your hair in the fall. In the summer season, the ice houses are open so that you can stroll along the seafront with a refreshment.
Lifeguard post in high season
In high season you can swim safely on Rågeleje Beach. There are lifeguards on the beach watching. However, do not forget that you are responsible for taking good care of yourself, those you know and those you do not know.
Popular with kite and windsurfers
When it's windy, the windsurfers and kitesurfers come out on the beaches in North Zealand. Rågeleje Beach is no exception. Please bring your equipment or watch the surfers as they whiz away on the waves along the coast.
Practical information
Lifeguard during the summer period
Parking: Opposite Molevej or above Strandvejen by Orebjerg Rende
Dogs in summer: Not allowed within the blue flag zone. Outside the area, they are allowed on a leash. See where there are blue flags.
Dogs in winter: Allowed with and without a leash.
What to see around Rågeleje Beach
On the heather-clad hills at Heatherhill, the sheep graze in the summer. In winter, the hills are perfect for a walk or sleigh ride. South of Rågeleje, you will find Maglehøje, ten burial mounds from the Bronze Age with a 1.3 km path. At Rågegården, you can sense the beautiful garden that was here once with rhododendrons and water lilies.