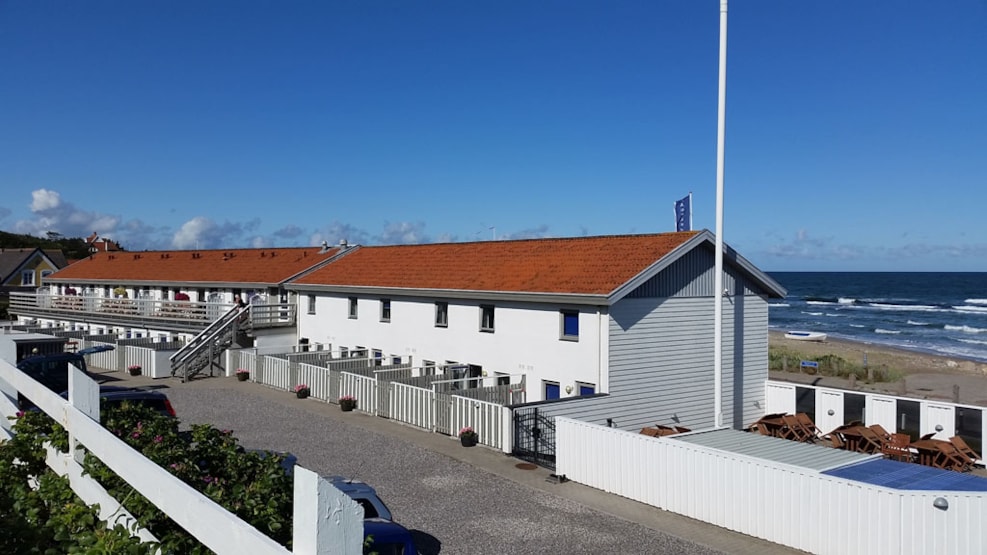 Rågeleje Klit Holiday center
Holiday centre with 20 well-appointed apartments in 3 different sizes with sleeping space for 4 - 6 people. All with sea views.
Open all year. The ideal place for winter bathers and sun lovers
All apartments have a well-equipped kitchen, TV, and box for valuables. Rågeleje Klit has a breakfast café, sauna, laundry room, small playground, lovely solarium with barbecue and a high-rise gazebo with sea views. The resort has free WiFi, and each apartment has its own parking space.
Rågeleje
The classic beach promenade, overlooking the striped bathhouses, follows the coastal road a reasonable distance along the beach, very close to the sea. When it's windy, there are plenty of kites and windsurfers to watch.
In addition to the beach, the area around Rågeleje also offers much other beautiful nature. On the heather-clad hills at Heatherhill, the sheep graze in the summer and the winter. The hills are perfect for a toboggan ride in snowy weather. All year-round, the slopes facing the water are a favourite destination for paragliders.
Just south of Rågeleje, you will find Maglehøje, 11 burial mounds from the Bronze Age, where a 1.3 km path leads you around to them all. There are many beautiful footpaths in the whole area, and at Rågegården, you can still glimpse the beautiful garden that was once with rhododendrons and water lilies.