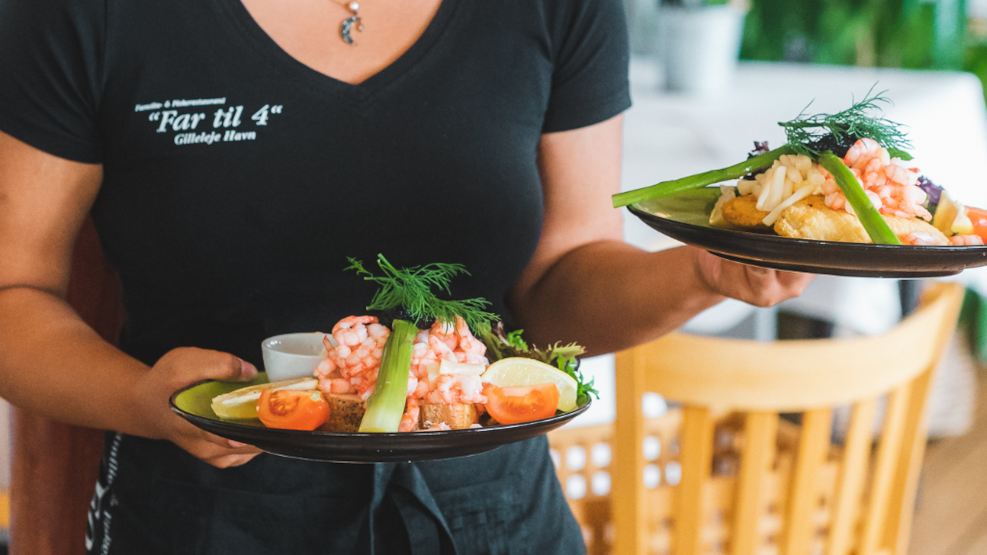 Restaurant Far til 4 | Family & Fish Restaurant
Cosy family restaurant in Gilleleje. Overlooking dunes and sea. The restaurant is located right by the harbour and not far from Gilleleje centre, where there is plenty of opportunity for shopping in the many speciality shops.
The restaurant serves lunch until 4 pm, and then it's the evening menu you can enjoy—delicious Danish dishes for every taste.
Gilleleje
... is Sealand's northernmost point. A lovely summer town with an active fishing port, lots of speciality shops and a wealth of experiences all year round.
A prominent place for a shopping trip
Gilleleje is a lively tourist, trading and fishing town with Sealand's largest fishing port as its natural centre. You will find unique shops that match every style and wallet in the city. Here are many grocery stores, but also a large selection of, for example, inspiring applied art stores, hairdressers, toy stores and many clothing stores.
If you need a rest along the way, stop by Restaurant Far til 4. As the name suggests, the restaurant is a child-friendly eatery.
From 12:00 - 15:30, you can choose your food from the lunch menu.
From 15:30 - 17:00, the restaurant serves only Wienerschnitzel, Fish and Chips and children's dishes.
From 17:00 - 20:00, You can choose from the evening menu.