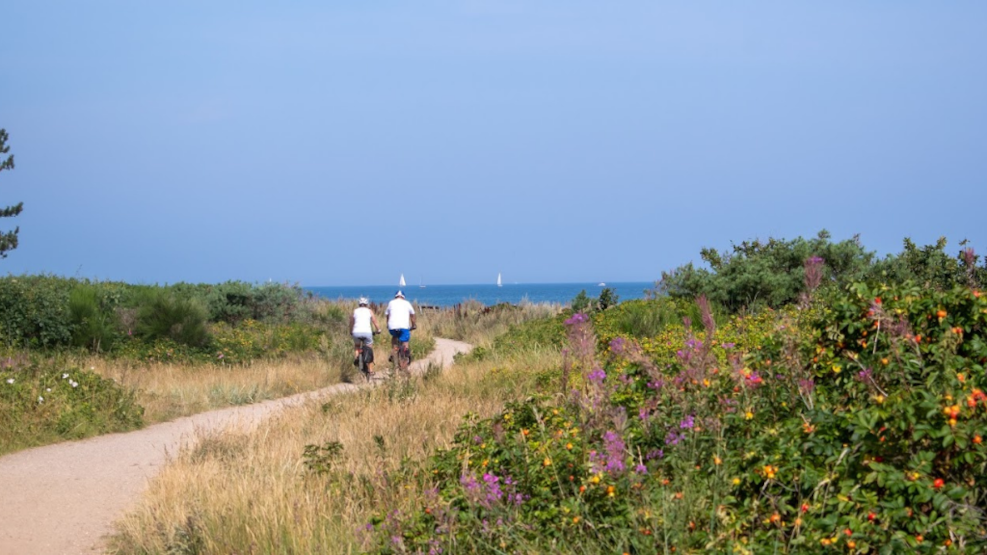 Round the fjord with 4-Ferries
Experience the best of the fjord landscape along the Isefjord and Roskilde Fjord when you take the trip with the 4-Ferries. The ticket is purchased on the ferries.
Are you also staying in Denmark during your holiday? We then recommend the beautiful cycling trip "Isefjorden Rundt med de 4 Færger", which take you around Isefjord with 4 ferries.
Put on your hiking shoes and jump on your bike to explore the best of the fjord landscape. Take the trip with the 4 ferries and follow the approximately 100 kilometres long path around Isefjorden. Buy a total ticket for the 4 ferries and enjoy the trip in your pace – the right pace – over a day or more while enjoying the fjord seen from both the land and from the sea. The trip can also be experienced by car or motorcycle. You choose for yourself.
The fjord's culinarian temptations
You can and shall not only live from the sight of the beautiful fjord and the smell of beech and fields, especially not when fantastic restaurants serve the gold of the Isefjord, the famous fjord scrimps, fabulous beer from local microbreweries or wonderful vegetables from one of many local food producers.
Find more inspiration for more exciting experiences as well as suggestions for accommodation and restaurants in the brochure
Ticket sales
It is recommended that you buy your ticket directly on the ferry.
A reservation is not required. However, you must make a reservation if you arrive on a bus. We recommend making a reservation during the peak season for the Hundested-Rørvig ferry.
A ticket for the 4- Ferries provides you with only one trip on each ferry, but the ticket does not need to be used in one day, you can divide it over multiple days. Tickets for the 4-Ferries are valid from 1/ 4-30/9 2020.