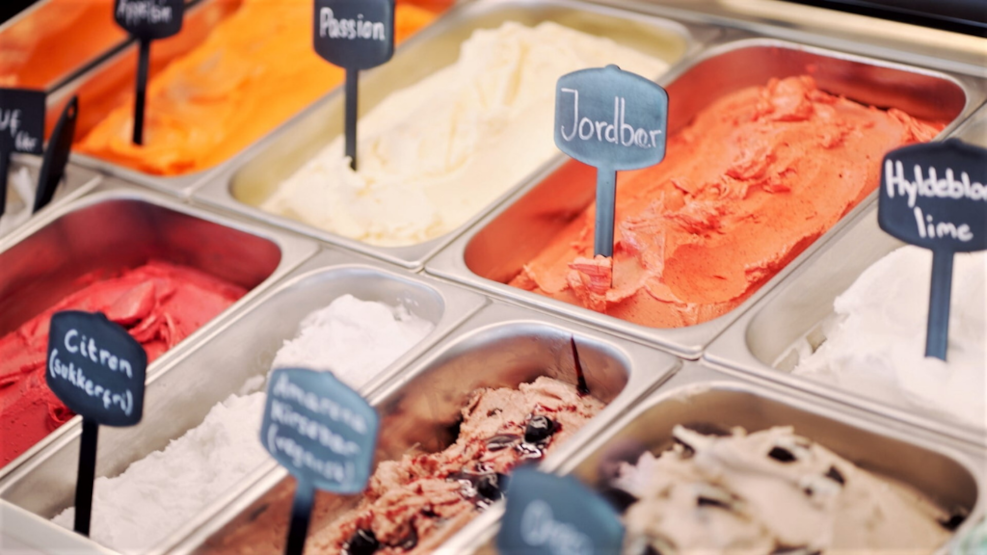 Is Salonen & Living by Helt
ALL weather is ICE weather… because homemade ice cream is made all year round (except January)… Pamper your senses with delicious Italian-inspired ice cream from the Ice Salon in Frederiksværk. Stop and come inside. Here you get homemade ice cream, both to-go and to enjoy in the store or outside.
Ice cream is made here for EVERYONE - also for people with milk allergies, diabetics and vegans. The passion is to give you a taste experience.
Come into the cosy ice cream café & lifestyle shop, and treat yourself to homemade specialities:
Ice cream (minimum 16 different varieties)
Handmade ice cream sticks
Ice cream cake/pieces (also to take home)
Milkshake/smoothie shake (mix your own favourite flavour)
Softice
To-go icebox (take home / in the cottage or on a trip)
Homemade ice cream waffles
Freshly baked cake/cookies
Handmade rum balls & cream buns
Freshly brewed coffee/tea / hot cocoa (also as a to-go)
Cold refreshing drinks
Rent an ice cream parlour and pamper your guests
Every day, ice cream and other delicacies are carefully made by the ice master & confectioner in the workshop beneath the shop. The main ingredient in the delicious ice cream is based on organic milk from the local farm Lundholm. All raw materials are carefully selected and preferably from local partners.
North Sealand's nicest ice cream café and lifestyle shop is located at the start of Frederiksværk's pedestrian street just opposite the beautiful old church and all the way to the Arresø canal. You can enjoy your delicacies in our cosy decorated cafe with room for 25 seated guests as well as seats outside when the weather is right.
Right outside the door, there are great shopping opportunities
But before you say goodbye, feel free to take a little tour of the lifestyle department. Here you can get inspiration for decorating the home/cottage. There is applied art from i.a. Chic Antique, Ib Laursen and handmade things from local artisans as well as skincare from Danica Skincare.
Afterwards, just walk out into the pedestrian zone, where there is a wide selection of shops in the shopping street.
REMEMBER: There are plenty of free parking options.
If you have an event/excursion/company event where you need something extraordinary, you are welcome to contact IsSalonen, which has lots of ideas for designing an ice cream adventure tailored to your wishes.