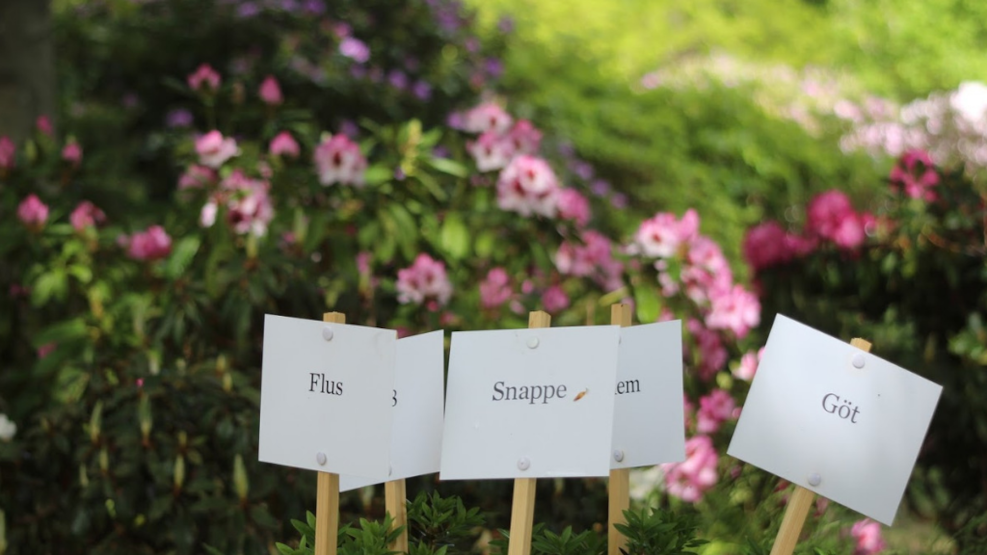 The Sanctuary for Endangered Words
When walking in the beautiful park surrounding The Nivaagaard Collection, you will discover groups of small white signs on sticks, planted among the Rhododendrons. Each sign has a word printed on it, an endangered word. You are entering the Sanctuary for Endangered Words.
Do words need protection?

At Nivaagaard, they care about the Danish language, and they worry about some words that are disappearing. Therefore, they have set up a sanctuary in the park where threatened words can remain until they find a foothold in the Danish language again.

Nutrition and love

About 100 endangered words are displayed, and Danish speaking people can help bring them love and attention along with the museum and park staff. When the museum discovers that a word has regained its place in the language, it is released and replaced by a new, endangered word.

Good conversations between generations

The Reserve for Endangered Words is intended as a social experience where parents and children, grandparents and grandchildren, young and old across generations can talk about words and their meaning. Find a word you want to help preserve. Take it into your mind, use it and help to bring it back to life.