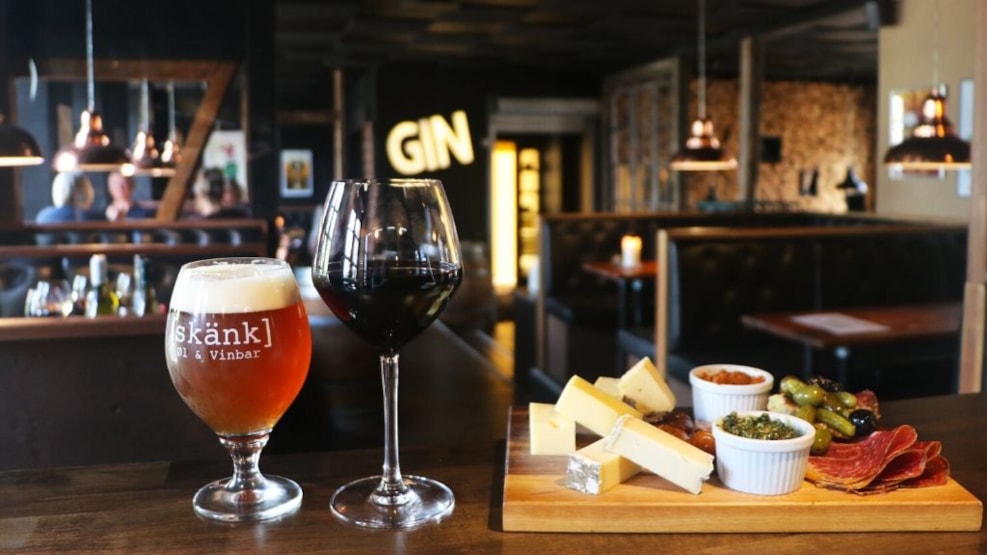 Skänk Hillerød Beer and Wine Bar
Experience pure Danish hygge at the cosy and atmospheric Skänk, complete with live candles, great beers, wine, and fantastic food. Skänk is Hillerøds beer and wine bar for grown-ups. Age limit: 18 years
Explore danish microbreweries with our ten local beers on tap. Travel far and wide with more than 20 wines on the glass. Or just have a good time with our great cocktails, including five different G&T's. Complete the experience with our luxurious tapas and snacks.
Beer from danish microbreweries
All beers at Skänk, both on tap and bottles, are from danish microbreweries, including several local breweries. Choose from a wide assortment, from fresh IPA's to dark stouts. Our friendly staff is always ready to guide you. Try our tasting board, where you get four small taste samples from our tap - a great way to experience the danish microbrewery revolution.
Wine from all over the world
At Skänk, you can taste excellent wines from all over the world. With seven white, eight red, and three rosé on glass, you will always be able to find a wine that suits your taste. Skänk also has an impressive wine card.
Delicious tapas and snacks
To really experience danish hygge good beer and wine is not enough, you also need great food. Skänk as a small but expertly chosen assortment of cheese and charcuterie, from both danish and European producers. For the light hunger, Skänk also serves some fitting snacks. Try, for example, the homemade crackers and aioli or the soya roasted almonds.
Cocktails and spirits
Skänk Hillerød has a small but exquisite selection of cocktails. Try our Dark 'n' Stormy, Aperol Spritz, or Red Sicilian. We also serve five different gin and tonics, and more than five Scottish whiskeys.
Stop by
A visit to Skänk is equal parts of hygge, a cosy atmosphere, and a fantastic selection of beers, wine, drinks, and food. Stop by and experience it.