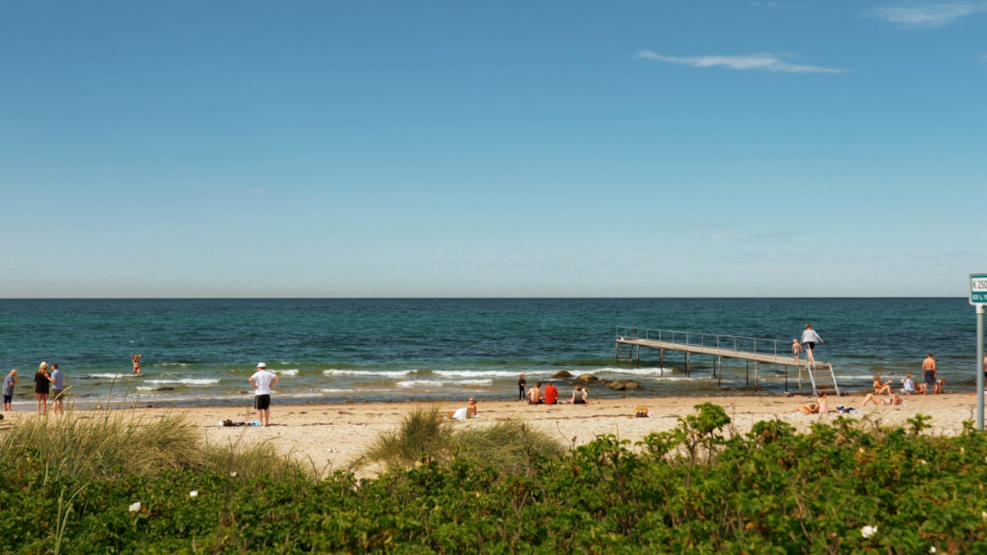 Smidstrup Beach
Between Gilleleje and Rågeleje, behind the cottages in red and black and straight out to the Kattegat. Here is Smidstrup Strand.
Behind the cottages is the sea
When you go to Smidstrup Strand, you drive along small roads, between cottages and pine trees and end up at the Kattegat. Feel the sand under your feet, the heat from the sun on a summer day and maybe bring some ice cream.
Ice cream and other food
You can buy both ice cream and other refreshments in Smidstrup. There are ice cream parlours, grocery stores and cafés in the town not far from the beach.
If you are looking for an ice cream that is a little extra good, you can drive to Kollerødgård Ismejeri about three kilometres away.
May I take my dog ​​with me?
Dogs are welcome at Smidstrup Strand. Part of the beach at Smidstrup Søvej, which lies between Rågeleje and Gilleleje, has been marked as a dog beach as an experiment. This means that you can be on the beach and bathe with your dog. There is both a part of the beach where the dog can be loose and an area where it must be on a leash. Always have full control over the dog, follow the local signs.
Lifeguard post during the summer holidays
During the children's summer holiday, you can swim safely at Smidstrup Strand. The lifeguard keeps an eye on the bathers and is ready to come to the rescue if needed. Always remember to be careful when bathing in the sea, even if there is a lifeguard.
Practical information
Lifeguard during the children's summer vacation.
Parking: At Smidstrup Søvej from Sognevej.
Toilet at the parking lot.
Dogs in the summer: Dogs are allowed on a leash between 01.04 - 30.09.
Dogs in winter: Allowed with and without a leash.
Blue flag: No