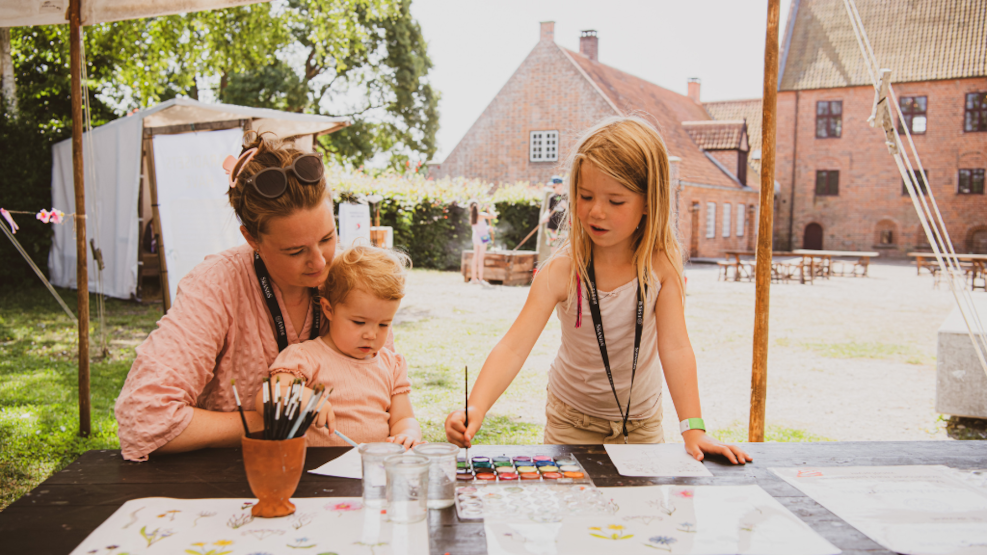 Summer Holiday at Esrum Kloster & Møllegaard | Join the Alchemists' School
Experience an amazing summer day at Esrum Kloster & Møllegård, with fun and educational entertainment. Join us on an exciting journey to the Alchemists' School, where you will learn to master the four elements: water, earth, fire, and air.
Once you have proven yourself as a worthy apprentice, you will gain access to Alchemist Nicholas Flamel's secret chamber. Here, you will be challenged with a final task that will grant you an apprenticeship certificate and the title of a true alchemist!
Apprentice as an Alchemist
Become an apprentice as an alchemist and follow in the footsteps of Nicholas Flamel. An alchemist is a blend of wizard and scientist, dating back to the medieval era. Alchemists understand how to harness the forces of nature and believe that everything in nature is composed of the four elements: earth, fire, air, and water.
This summer, the renowned alchemist Nicholas Flamel is seeking apprentices. He wishes to share his knowledge and teach children, youth, and adults at Esrum Kloster & Møllegård how to master the power of the four elements. You and your family can enrol in the Alchemists' School and learn to become true alchemists.
Admission includes activities and access to the exhibitions
Summer at Esrum Abbey can be experienced throughout the week from June 27th to August 7th, 2023.
Adults: DKK 95 | Children (5-18 years old): DKK 65 | Children under four years old: Free
You can purchase tickets online or at the Monastery Shop on the day.
The target audience for this experience is children aged 5-12 and their families.
You can pick up your "school book" at the shop and buy the admission ticket.
The Power of the Four Elements
In the Alchemists' School, you will be challenged to master the power of the four elements. What is the power behind water, fire, earth, and air? And how can we, as humans, master it? You will prove this through fun activities where you can experience the elements and learn to control them. For example, you will learn to ignite a fire and use it to make popcorn. Nicholas Flamel's key bearers, who are the guides of Esrum Kloster, will be ready to assist you along the way.
Additionally, you will use your senses to find unique signs necessary for the ultimate task. You will rely on taste, sound, sight, and touch to find the correct answers.
Discover Flamel's Secret and Receive Your Apprenticeship Certificate. Once you have proven your ability to master the power of the four elements, you will gain access to Nicholas Flamel's secret chamber. Here, you will apply everything you have learned to solve codes.
Along the way, you will receive assistance from code tools and other mysterious objects that might help you open Nicholas Flamel's secret chest. When you have shown your worthiness and passed this final test, you will receive your apprenticeship certificate and be able to call yourself a true alchemist!
Experience the Monastery with Augmented Reality
Try our new digital journey through the landscape. The summer activity is included in the regular admission ticket to the monastery, where you can explore all our exhibitions. We have just launched an exciting new digital experience: "The Rise and Fall of Esrum Kloster." Upon purchasing admission tickets, you will be provided with an iPad, and then you can recreate the original monastery complex by visiting three different locations in the landscape. Along the way, you will be guided by the "Spirit of Esrum Kloster," brought to life by the voice of Lars Mikkelsen.
Visit the Nature Playground 
Enjoy the beautiful summer landscape and visit the nature playground. Esrum Kloster & Møllegård is located in one of North Sealand's most scenic areas, making it perfect for a short tour. You can find inspiration and various maps for short and longer walks in the shop.
Next to the monastery, you will find the Nature Playground, which is always a hit with children. It features a zipline, a giant birdcage kiosk, swings, a cross-fit course, and much more. You can also find sheltered spots to enjoy packed lunches.
Have a delicious summer lunch, ice cream, and visit our monastery shop.
The Mill Café always serves local, homemade meals. Try, for example, the hot-smoked salmon, smoked in our smokehouse, or a classic lunch platter for both adults and children. The café also offers a wide selection of cold and hot beverages and a variety of cakes.
Conclude your visit by stopping at the Monastery Shop, where you will find exciting products for parents and children. You can find toys, books, beer, soaps, French delicacies, and more.