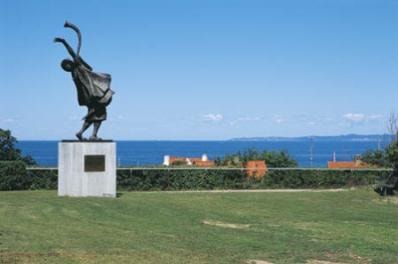 Teka
The statue has been donated to the Community of Græsted-Gilleleje by Yuli Ofer, Israeli shipowner. Teka Bashofar is hebrew and means "Let the great Shofar proclaim our liberation". The sentence can be found in the Jewish prayer-book and is used three times a day during services of God. It is a call for God about freedom from persecution, from enemies.

The Statue is a replica of a sculture in Herzlia and donated to commemorate the Rescue of the Danish Jews from the Nazis in 1943. Gilleleje was the departuring habo-ur for perhaps 2.000 Jews, who from here reached freedom in neutral Sweden. The whole city and its surroundings participated in the action to help. The fishermen sailed with the refugees, the citizens and the farmers in the surroundings were hiding the unfortunate, until they could get over - and even the police helped with advices and deeds - contrary to orders from the German.

Only one time it went dreadful wrong in Gilleleje in October 1943. Almost 100 Jews were hiding on the loft of the church. An informer told the German police about it, and they were caught and brought to Theresienstadt. The statue should both bear witness of the successful escape over the Sounds and remind of the dreadful night at the church, says George Weil, who has been married to a Dane, lives in Israel, in Herzlia close to the mediterrainian Sea.

The Statue is located at the Culturehouse.