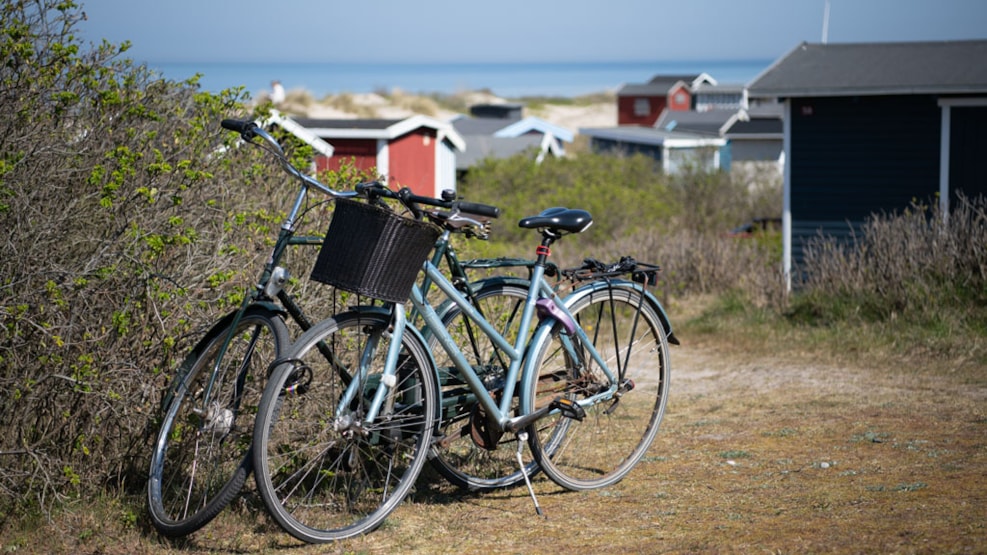 Tisvilde – Hillerød | Route 32
If you are into castles, nature experiences and a refreshing dip, you must try this cycle route. Here you get Frederiksborg Castle, the Badstueslottet and fine nature experiences along streams and lakes before you arriving in Tisvildeleje.
A cycle route in 2 stages. Cycle route 32 is 26 km long, and divided into 2 stages:
Route 32 SYD, which is also called Pøleåstien
Route 32 NORD, which is also called Tisvildestien.
The route is signed with the blue cycle route sign no. 32. You drive mainly on paved cycle paths, but also on less busy roads.
Through Frederiksborg Castle and castle garden
Route 32 begins at the square in front of the entrance to Frederiksborg Castle, just like route 33. You must enter through the castle via the bridge and the narrow, paved street which leads to the Gate Tower and Ydre Slotsgård. Enjoy the sight of the Neptune Fountain with Christian IV's magnificent Renaissance castle in the background before continuing out into Frederiksborg Castle Gardens through Møntporten.
Continue along Rendelæggerbakken, the garden's continuous axis, until the baroque garden (Barokhaven). From here you follow route 32 to the left towards Badstueslottet and further past Ødammen with Louise Ø. Then you leave Frederiksborg castle garden.
Along Pøleå and dammed meadow lakes
Follow the signs along small roads past Selskov Stadium. At the highway, Isterødvejen, routes 32 and 33 are separated. Route 32 turns west, on the north side of Isterødvejen. Then you drive along Pøleå, which connects Hillerød with Arresø. The river is 20 km. long and has given name to the route, which follows its course approx. 7 km.
Along the way, you pass Strødam Engsø and later Solbjerg Engsø, dammed lakes created by Pøleå, to reduce the discharge of pollutants to Arresø. Denmarks´s biggest lake. The lakes have a very rich birdlife that you can study from the bird towers, and they are favourite excursion destinations for nature lovers and anglers.
Shortly after Solbjerg Engsø, route 32 crosses the Hillerød highway and leaves Pøleå, which runs west into Arresø. From here it is a few km. north to the town of Helsinge.
Open farmland, idyllic villages and the best beach
Route 32 continues from Helsinge station along Gadekærvej and goes north of the city's pedestrian street, street pond and church and out of the city. After this, the landscape opens up with cultivated fields, detached farms and small villages.
You pass Laugø, where Laugø Smedie has a working workshop on selected days, as part of Museum Nordsjælland. Continue via Ørby to Vejby, where the church towers high on its hilltop - it was previously used as a beacon. Look in - Vejby Church is worth a visit.
The route continues along a paved cycle path along Tisvildevej, through beginning holiday home areas and past Sankt Helene Holiday Centre. It ends at the seaside resort of Tisvildeleje, with an attractive sandy beach and wonderfully clean seawater, and access to Tisvilde Hegn and Troldeskoven.
Connection to the North Coast Path
The Tisvildestien is marked all the way with the blue cycle route sign no. 32. You drive mainly on paved cycle paths, but also on less busy roads. In Tisvildeleje you can choose to continue the bike ride along the North Coast along route 47, either west to Hundested, or east to Elsinore. In Gilleleje you can take route 33 towards Hillerød, and thus get a good day trip out of the triangular route, with start and finish in Hillerød.
You can download the route here