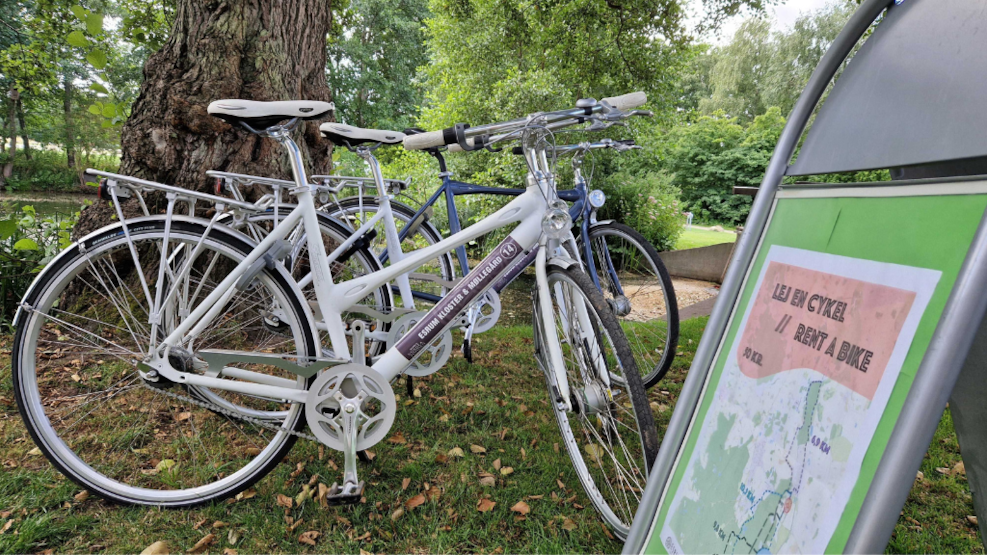 Tour Suggestion: The cycle tour to Storedam and Væltningen
This cycle tour, starting from Esrum Kloster, takes you north to Snævret Skov, where you come close to Storedam and Væltningen. The trip is approx. 7.2 km.
Discover the remains of the Stampemøllen as well as a seed plantation for the production of spruce seeds
Along the eastern part of the forest, you can see the remains of the dried-up canal, which in the early 19th century was dug from Esrum Sø to Dronningmølle at Kattegat to facilitate the transport of firewood from Gribskov to the capital.
The Væltningen
In Snevret Skov, the firewood was transshipped from the upper to the lower channel. This took place through a chute, the Væltningen, through which the firewood was cured. The place is still seen as an approx. 4 m deep crater, at the bottom of which the lower channel starts its journey towards Dronningmølle.
It is also possible to find the remains of the Stampemøllen, where a waterwheel utilized the power of the canal's water in a gunpowder mill built during the war against England from 1807-14. Later, the mill was converted into a mill for felting military cloth. There has also been a grinding mill, and a large, beautiful grinding stone is still on the site.
Seed plantation
On the return journey south, a large, younger stand of red spruce can be seen, planted in 1983. The trees are grafts from many selected, particularly beautiful red spruces from all over the country. The plantation is used as a seed plantation for producing spruce seeds of excellent quality.
On the western road out of the forest, it may be necessary to get off the bike before reaching Sodemarksvej. Follow this south to Esrum Hovedgade, after which Klostergade follows you back to Esrum Kloster.