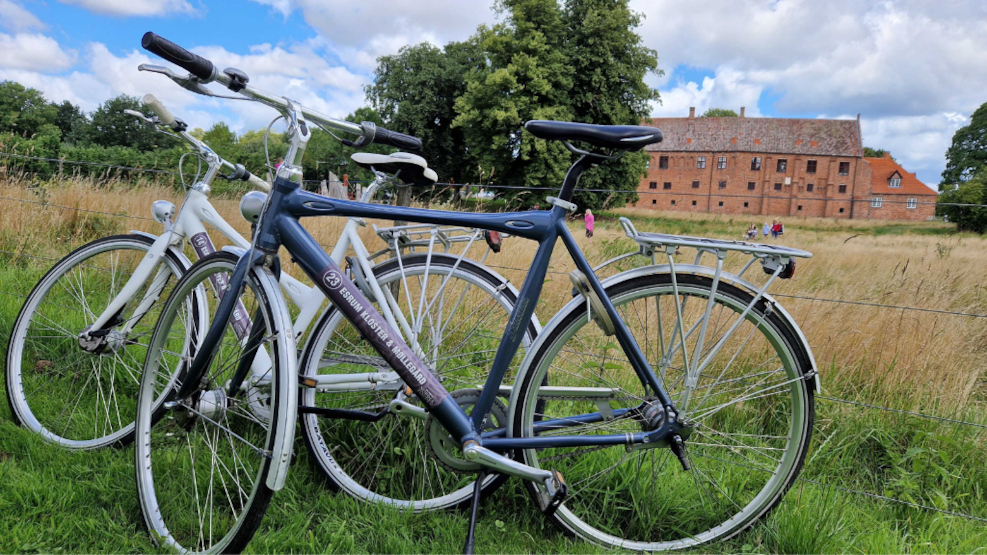 Tour suggestion: The tree big trees
Take the bike south through Gribskov from Esrum Kloster. On this tour, you will pass the three thickest oak trees in the area. The trip is approx. 9.8 km. Long.
Take a bike ride in Gribskov around Esrum Kloster and experience the three most giant oak trees in Gribskov.
With Esrum Kloster as a starting point, this beautiful bike ride takes you and the family through one of Denmark's most extensive forests, Gribskov. Here the tour passes three of the giant oak trees in Denmark.
#1: Gribskov's thickest and oldest tree
The tree measures 171 cm in circumference at chest height and is thus one of Denmark's 40 thickest oak trees. The tree is approx. 28 m high. Many prominent branches/trunks have broken off, but the tree is still green in the crown. The wood is i.a., home to the giant Oxtongue mushroom, which pokes its large red tongue-like fruiting body out of the tree's base in autumn.
The tree is probably 5-600 years old and is already mentioned in the 1680s in Christians V's Land Registry as large, together with one or more others. Another large oak tree in the forest edge to the northeast of Krogdalshus fell in a storm shortly after the turn of the millennium.
On the opposite side of the path behind the former forester's house, Kroghdalshus, you can see Lord Nelson's Oak, a lovely tall fleet oak.
#2: Vulture's second thickest tree
The tree measures 653 cm in circumference at chest height. It is right at Gillelevej/Hjortlungsvej by the car park. Despite several dead and broken branches, it still seems vigorous and has a sizeable lush crown. It is about 400 years old. Behind the tree, the undulating forest floor can show that farmers have cultivated their ridged fields here.
#3: Gribskov's third thickest oak
The tree measures 635 cm in circumference and is approx. 30 m high. The approximately 400-year-old old oak stands on Gl. Prestevej, where it has previously stood together with at least nine other large oak trees. It bears the impression of being squeezed by nearby beech trees. It is rotten and missing the bark on one side of the trunk.